It's a brand-new year and we have a handful of brand-new bridal trends up our sleeves for 2023 and all our future brides and stockists.
For all those newly engaged brides who will be already planning their bridal looks, they will be keen to understand the trends they will expect to see this year.
Planning a wedding is something most girls dream of from being a very young age, and the planning can be just as enjoyable as the actual 'Big Day!'
Looking back on the last few years of bridal trends, we have seen exquisite lace gowns, sheer embroidered fabrics, and heavy embellishments, and accessories have seen dramatic lace, embellished veils, stunning princess style hair pieces, and belts. However now, brides and retailers can expect to see a shift in fabric styles, hemlines, and silhouettes with their dresses and accessories as we enter into a new age of elaborate weddings after the minimalistic ceremony's we saw during the pandemic. Our Stunningly elaborate Rebecca gown and cape just screams opulence for such a special day.
With any trend, it normally starts with the catwalk followed closely by well-known celebrities sporting a particular look that then catapults a new look onto the forefront of social media and people's minds. We have been keeping a keen eye on the red carpet looks the last few months with the awards season in full swing. The MET Gala saw Vogue editor Anna Wintour wearing a tiara fit for a queen, and at the recent BAFTA's the future queen herself, Kate Middleton teaming her bridal style gown with in some beautiful long opera gloves.
We have selected a few new accessory trends that every bride should know about ahead of planning their wedding. These are all brand new products that we are currently adding into our current accessory catalogue for 2023.
Sumptuous Sleeves and Gloves:
Sleeves have been a huge trend for a while now, and detachable sleeves are still hot on the tick list for any bride to be wanting to mix up their bridal look.
Huge voluminous tulle and chiffon fabrics with deep cuffs like the designs we introduced at London Bridal week 2022, to slimmer fitted tulle and crepe designs, sleeves have been a hot topic for bridal shops and their brides, who can now add a different look to any style dress.
Our Spanish inspired Marianna gown has the most perfect detachable sleeve combo's which will leave you having up to 4 looks in one.
With TV shows like 'Bridgerton' and celebrities such as Nicola Peltz Beckham who teamed her classic style wedding gown with 'Opera style' long lace gloves, we knew this would be a huge up-coming trend to explore. The original tradition was made popular is the 18th and 19th century where brides wore gloves as a symbol of grace. Today brides may opt for a gloved hand because of formal etiquette adding an extra layer of refinement to their ensemble. There is something very regal about the glove, and we have a selection of different styles arriving ahead of London Bridal Week 2023 in sumptuous soft tulles and laces.
Drama is everything:
With a sudden demand for the black wedding gown, we just had to include some black veils to our amazing veil collection.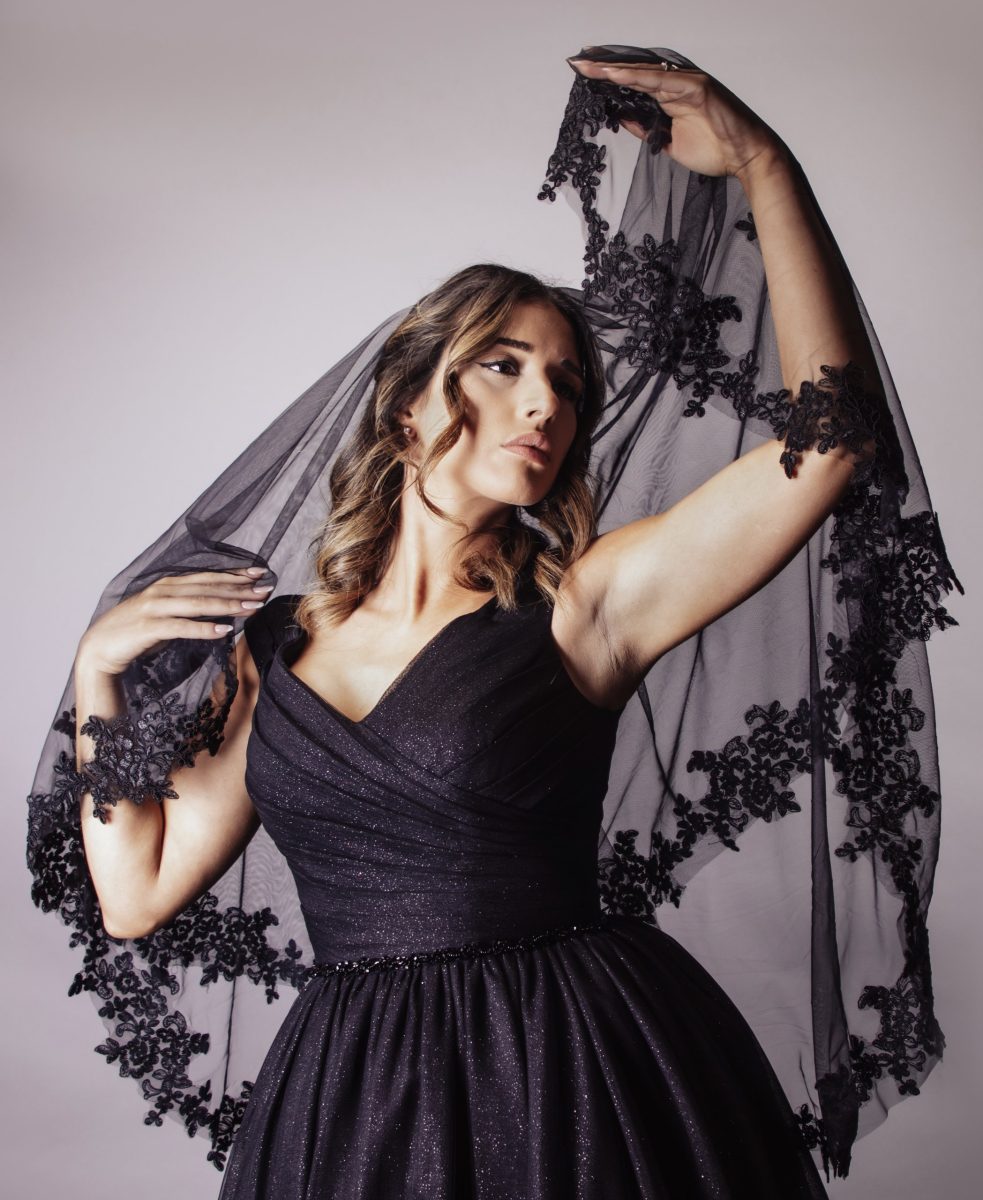 The black wedding gown recently relates back to Spanish history. A custom in Roman Catholic tradition, the Spanish bride wore a black gown paired with a black veil known as a mantilla, which symbolises the devotion to her husband until death.
Wearing black dresses has become a key trend that came out of 2022 after many designers showcasing their dramatic black gowns at Harrogate Bridal Week, so we needed to act fast to get some beautiful black veils to compliment any gothic inspired look.
Sparkle and plain tulles with delicate lace or beaded edgings, we now have a couple of styles that will compliment any black gown.
Bird cage veils:
Brides can keep their wedding gown classical and really have fun with the accessories, going high fashion or minimal. Some brides love a veil and others opt for no veil. We are exceptionally proud of our extensive collection of hair accessories, and now we are introducing the birdcage veil.
A birdcage veil is a short veil that covers part of the face with a comb, sitting like a cage over the face.Bird cage veils can be worn differently depending on where you place it on the head. It's important to consider your bridal hairstyle, face shape, dress style and dress embellishment when choosing a birdcage veil.Shorter vintage style dresses suit birdcage veils around 9 inches or a shorter length to represent the shorter hem length.
Bridal trouser suits and jumpsuits are ultra-chic and can be styled with short or larger birdcage veils. A wide leg trouser suits a larger veil and a narrower, cigarette style would suit a shorter veil design.
For traditional bridal gowns, the birdcage is a beautiful way to capture a brides own personal fashion style and contemporary mood, so they can really just have fun with this accessory.
Towering Tiaras:
Hair vines and combs have been a staple in bridal accessories for some time now, but the traditional tiaras are making a comeback! Whether a bride is subtle in her accessory choice, or going for full on drama, we have all bases covered with our collection, ranging from silver, gold, rose gold or even black.
One of our favourites is the stunning PBT5015, which is crown for a princess, and will make one heck of a statement.
Forever changing trends in a fast-paced industry can be daunting, but one things for sure, you can have so much fun exploring all the different looks to find the perfect one for your big day.
Love team PB x