All I want for Christmas… Are shoes!
It's that time of year again, to strut your stuff at the Christmas party as the celebration season gets into full swing! It's the time to look for that perfect party outfit or the perfect accessories to jazz up a reliable and faithful ensemble, but it's so easy to make a terrible faux pax when it comes to shoes.
We here at PB HQ have you covered with these top tips to finding the most show stopping pair of shoes that will keep you on your toes and dancing all night.
Think season practical.
So it's highly unlikely you will be partying outdoors, you will still need to get from A to B and November and December are 2 of the coldest months so maybe leave the strappies in the wardrobe and opt for a closed toe, court shoe to keep those tootsies a little warmer, or if you are anything like me and still have winter pedicures done, maybe a cute peep toe style to show off those glittery Christmas vibe toenails.
Our stunning Joanna shoes in our wintery shades of Navy, Green and Slate micro suede, with a trim of silver or gold metallic leather, are just perfect for those winter evenings on the town.
Or for those party goers that want a bit more sparkle, our beautiful Perla gives the look of a strappy sandal but offers full coverage over the toes with a slight 1920's vibe with a T bar strap. Available in Christmassy Gold, Navy and the fabulous Nude which will compliment any outfit, these shoes are a party must!
Heel Height.
Personally, I love a high heel, but they don't necessarily have the comfort factor attached to them. They are perfect for sit down dinners, but for walking from bar to bar, dancing the night away on the dance floor, or waiting for a taxi, they are not ideal.
We have a range of low to mid heel occasion shoes as well as the skyscraper heels in our collection, but one thing they all have in common is our signature built in comfort cushioning on the insoles.
Our heels will be most definitely more comfortable than what's on the high street, but heel height is still a good thing to think about depending on what your social calendar is, and how long you plan to be on your feet.
Our best-selling Stara shoe has proven to be so popular, we now do in 3 different heel heights so it's suitable for across the board. The Calypso, the lowest of the heels, followed by Stara which is a mid-heel, and Electra which is a super high heel.
All available in Silver, Nude and Navy.
The walkability factors.
Now I love a pair of heels and especially court shoes like the Electra above, however when I am planning a night out where I will be walking a little and dancing, I sometime feel like I am slipping out of a shoe with no straps. Especially when wearing tights, which in November and December, is likely to be the case. So, if that's the case for you too, it may be worth considering a pair with some support like an ankle strap or strap across the foot as there is nothing worse than scrunching up the toes trying to keep your shoes on whilst running for a taxi at the end of the night.
Our favourite strappy shoes are Harley, a stunning metallic silver and gold shoe which is suitable for rainy or snowy evenings instead of the satin shoes which can mark more easily in bad weather.
These boots are made for walking.
Of course, the options don't have to be just shoes, there are many dress boots out there to choose from and our favourites are our stunning ivory leather Zara boot. These super soft leather booties can be jazzed up with the Zinnia silver diamante bows that just give that extra added sparkle perfectly.
The padded inner lining will keep your feet lovely and warm, and the mid heel and cushioned soles will make your party feet feel like they are in slippers.
Dance around your handbag.
Nobody can have a Christmas party without a handbag or clutch bag for all those party night essentials! So, you will be thrilled to know that we have you covered on the clutch bag front as we do matching styles for all our shoes! And some of our plain bags can be dyed using our professional custom dye service too!
All our bags are tried and tested with the mobile phone and lipstick test, and even our smallest Sammy clutch fits the latest smart phone comfortably.
All our styles come with 2 chain handles so you can have a small wrist chain or a longer, over the shoulder look as well as the option of it being just a clutch. 3 looks in one!
Our top 5 clutches will help you along the way to finding your perfect partner, you should never leave home without.
The Anise clutch, a simple yet elegant clutch bag with a beautiful cross section detail at the front in our hot new micro suede fabric. We just love the gold chain detail too that makes it so glamourous for those evening events.
The Anya clutch is brand new in our 2023 collection which matches our stunning new Jessica shoe. This beautifully classic envelope shaped clutch is perfect for those dazzling party nights,and adding sparkle to an outfit. Featured here in the new fuchsia pink, brand new in our 2023 collection, wear either alone or team with our stunning Jessica shoe for a full ensemble. Available in Navy, Black and Fuchsia.
Our Carter bag is an all-rounder, and can be used for more casual occasions, or for dazzling nights on the town. A fantastic sized clutch bag, can fit all your party essentials for a good night out! We love the soft micro suede finish on this style meaning you can dress it up or down, and it's available in Blush, Olive, Stone and Ivory.
One of our best sellers, Sorrell is that ultimate diamante clutch every girl needs in her accessory collection. Add dazzle to a plain outfit with this full diamante front clutch, or compliment the most sparkly of outfits, this bag really does have it all. Available in Navy, Taupe, silver, black and fuchsia.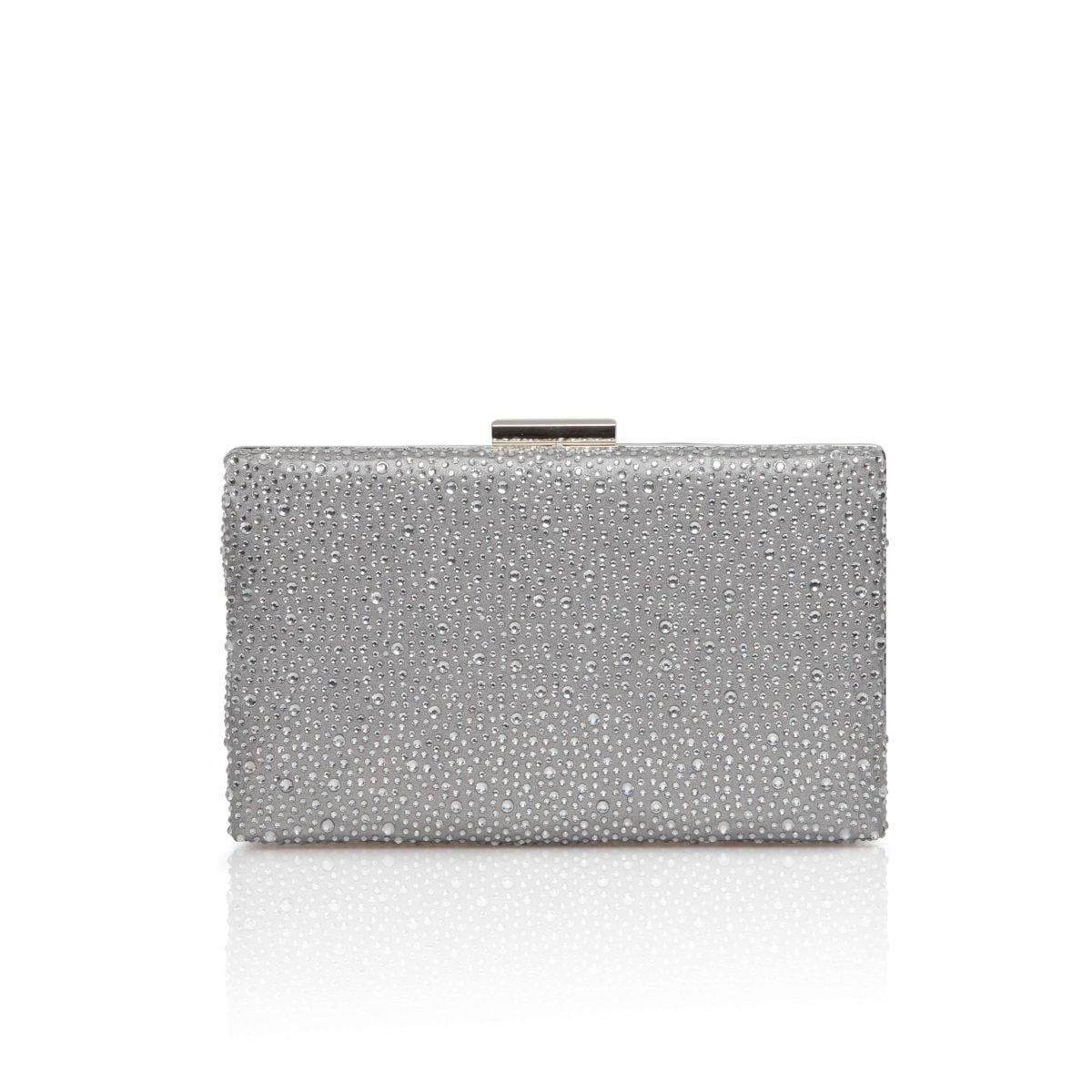 So, there you have it, you have the full guide to finding the perfect accessories for your social party calendar over the festive season and we have all the styles featured here plus more on the website!
Take a look for yourself and maybe Santa can come early!
Team PB x