With the new Disney film 'The Little Mermaid' released last weekend to huge success, we wanted to chat to our designer Kay Heeley about her love of fishtail style gowns and why she thinks they really can suit everyone.
There is a bit of a stigma attached to the fishtail or how some like to call them 'mermaid' gowns, and that being, that they only suit super slim brides. Well in this blog, we want to put to rest that view and showcase styles in our dress range to prove that any bride can opt for the super feminine silhouette, and showcases every single curve of their body. I mean look at Hollywood royalty like Marilyn Monroe a size 14 wearing the most beautiful figure flaunting looks. More recently, on the red carpets, our favourite curvy A-listers such as Beyoncé, Kate Winslet, and Mariah Carey, who all in turn have rocked a beautiful fitted gown to many premier and award ceremony.
Our designer Kay is a sucker for a fishtail and talks to us about why this style is a staple in her eyes, and where this love came from.
'I often think I was born in the wrong era, having always loved dresses and dressing up, I loved the eras in fashion history where women looked so feminine. Dior is the epitome of Couture for me, and all you have to do is look at his early creations to see the structure one can make with fabric and make it fit around a 3-dimensional body, it is just genius. I remember at collage being fascinated by corsetry and this time in the early 2000's, it was John Galliano who was the face of the Dior brand. I remember studying for hours the pictures in books about the corsetry that graced the catwalks of a Dior show. He was at the top of his game, and in 2019, I had the honour of seeing the Dior exhibition at the V&A in London, seeing all these stunning pieces of art in real life instead of on the pages of a book. I was in awe and spent hours just reading every single piece of information and looking at every single stitch in those amazing garments, just knowing I was looking at over 100 years of history.'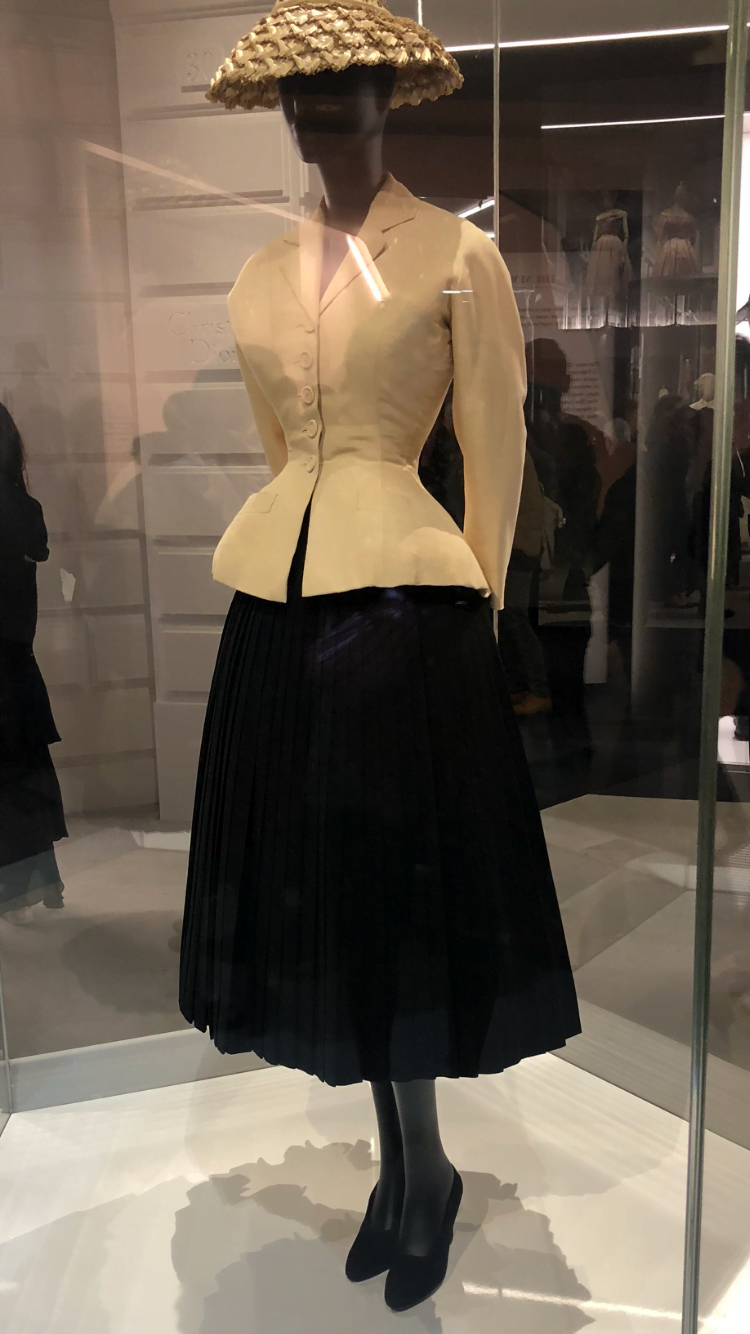 Images 'Dior' Exhibition London.
'I think my real love of fishtails started well before my fashion degree days, as when I was a little girl, I do remember seeing the original 'The Little Mermaid' film and it was, along with Cinderella, my ultimate favourite Disney film, and I can honestly say I was word perfect! So maybe this happy childhood memory has actually shaped my love of this style gown that I continue to live out time and time again throughout my career as a designer.'
'During my time at college, I bought many fashion books and one was a book about John Galliano, and the reason I bought this book was literally for one picture… a picture of a model wearing a lilac satin and black Chantilly lace corseted fishtail evening gown, and I still look at this picture to this day, and just love the design and how it makes the models figure look.
'Personally, I think many people are scared of the fishtail dress, the slim girls with athletic figures don't like them as they think they need curves to wear one, and the curvy girls don't like them because they think this style only suits the skinny figures. Tall girls can wear pretty much anything, yet shorter girls say they can't carry the fishtail look because it makes them look even smaller, when in reality, it's all about proportion.'
'A good fishtail should chinche in the waist, always a good look, right? And in a world of Kim Kardashian's and JLo's, we are currently loving the fuller derriere, so if you have it then why not flaunt it!'
'Let's chat about all the different versions of the fishtail/mermaid styles we have in our Perfect Bridal collection that launched late 2022, and prove that actually any bride can be open to try one on for themselves.'
'Take a look at the dramatic 'Rebecca' dress, which is still my favourite dress in the range. The fit of this gown is stunning with the structured Mikado bodice with built in corset to really fit the bust and shape the waist perfectly.
The flair of the skirt, if you are tall, can come right down from the knee, like on the Rebecca gown. Anyone below 5,5, unless they are wearing super high heels, should maybe look at choosing a style that flairs higher up the thighs or just above the knee.'
'A good option maybe the 'Roberta' gown that again has the flair coming from lower down the legs, but features a clever upwards point where it meets the skirt, creating an illusion drawing your eye up towards the hips. The beautiful illusion corset bodice again draws the eye to the waist with clever lace placement to flatter and shape the body.'
'If you are simply not suiting or liking the really fitted look of the Rebecca/Roberta gowns, there is a much softer fishtail you can choose, like on our "Willow' and Erin gowns. Made with a stretch crepe and tulle, they are literally two of the comfiest dresses to wear, looking and feeling amazing! Both these gowns softly flair from the mid-thigh, and the softer more flowing skirts gives a much softer mermaid look but still giving off the drama vibes. Both these dresses, are so versatile too with removable straps, sleeves, and trains, a bride can really play around with their bridal look.'
'Sometimes a bride can easily be conscious of her hips or tummy, in this case, the dress can be more of a fit and flair. A fit and flair is where the design of the skirt simply skims the hips and then graduates out like on our beautiful 'Olivia' gown. This style suits everyone, tall and shorter girls, slim and curvy figures, it's the perfect all-rounder, so we had to include it in our range alongside the matching cape with the stunning embroidered lace detail.
'When we launched the collection on the catwalk in Harrogate 2022, we listened to our stockists and how they said they are struggling to sell fishtail gowns as they felt it takes a certain bride to wear a dress like that, and we agree, it's certainly a dress that pushes the boundaries. But we here at team P.B, do believe that it really can suit everyone given the different options in a fishtail gown. As a Bespoke designer, I often make my samples in a bigger size so at least I can allow more brides to be able to try on and not feel body shamed if they are not a size 6-12. I believe if the dresses would fit a curvy bride, a slimmer girl trying the same dress would just require the sales assistant to pull the excess fabric in at the back to give the same effect at the front. This way EVERYONE can try the styles and not feel inadequate and embarrassed. So, stockist take note, perhaps order a fishtail in a size 18 and see how it goes, it certainly works for me, and the brides love it when they can have the option to try and see for themselves.'
The Perfect Bridal Collection by Kay Heeley has 12 styles in the entire range and half of those styles are fitted or fit and flair. The other half are stunning Cinderella ballgowns, another favourite Disney princess of hers. But we will save that blog for another time! So, in the meantime, we encourage brides of all shapes and sizes to give the fishtail a try, and you may just find your perfect little mermaid dress.
Love team P.B x