How to create a convertible wedding dress with clever bridal accessories
Whether or not you've seen the latest bridal trend of wearing three different looks on your wedding day, the convertible wedding dress looks like it's here to stay. With more and more brides wanting to customise their style and create multiple looks throughout the day, changing up one dress with detachable accessories is a clever and fun way to do just that- and a lot more cost effective than buying three dresses too!
There are multiple ways you can customise your dress using cleverly designed accessories. By mixing and matching these with a simple wedding dress, not only can you create multiple looks, you also know you'll be wearing something pretty unique as the chances of someone else creating the same combination are pretty slim! Here are some of our favourite ways to change up your dress…
Detachable Bows
Bows have been around in bridal looks pretty much forever, but seem to be having something of a moment lately! From hair bows to shoe bows and everything in between, there's never been a better time to embrace the bow! No longer merely for accessories however, the humble bow has had a makeover and one of our favourite detachable accessories is this oversized bow. Made in soft yet structured ivory tulle, this fabulous bow fixes easily to your bridal gown to completely change the look. Wear it for your ceremony before removing to reveal a more streamlined evening look.
Ps- if you really want to embrace the bow trend, we also offer detachable shoe bows too!
Detachable Sleeves
Perfect when you need a little more coverage for your ceremony- either due to the venue or the weather- detachable sleeves are easy to wear and add an instant touch of elegance and drama to any bridal gown. One of our favourites is our balloon sleeve (style PBA2021) in billowing ivory tulle, the generous pleated fabric creating volume which is gathered into pretty statement cuffs. Wear with a strapless dress to create an off the shoulder look.
Another popular detachable sleeve option, our gathered polka dot sleeves (style PBA2020) are very on trend at the moment and a great way to bring your wedding look bang up to date. Made from sheer ivory tulle with a pretty polka dot pattern, they can be worn with a wide range of wedding dresses to not only change up your look but to also give a touch of additional coverage- pretty and practical!
Detachable sleeves don't have to be subtle- if you really want to create some drama go for a full length cape sleeve, such as style PBA2019. These work especially well with a dress which has straps, so the sheer fabric drapes over exposed shoulders creating elegant, full coverage of the arms.
Bridal Gloves
A classic look which is making a comeback (which we are more than a little happy about) is adding a pair of bridal gloves to your wedding ensemble. There is something undeniably elegant about an occasion glove, and you can totally change up a look depending on the style you choose.
A timeless style, our mid-length ivory satin gloves PBA2030 instantly up the elegance and elevate any bridal look. Made from soft stretch satin, they're as comfortable as they are elegant, as well as adding an extra layer of warmth for the transitional months.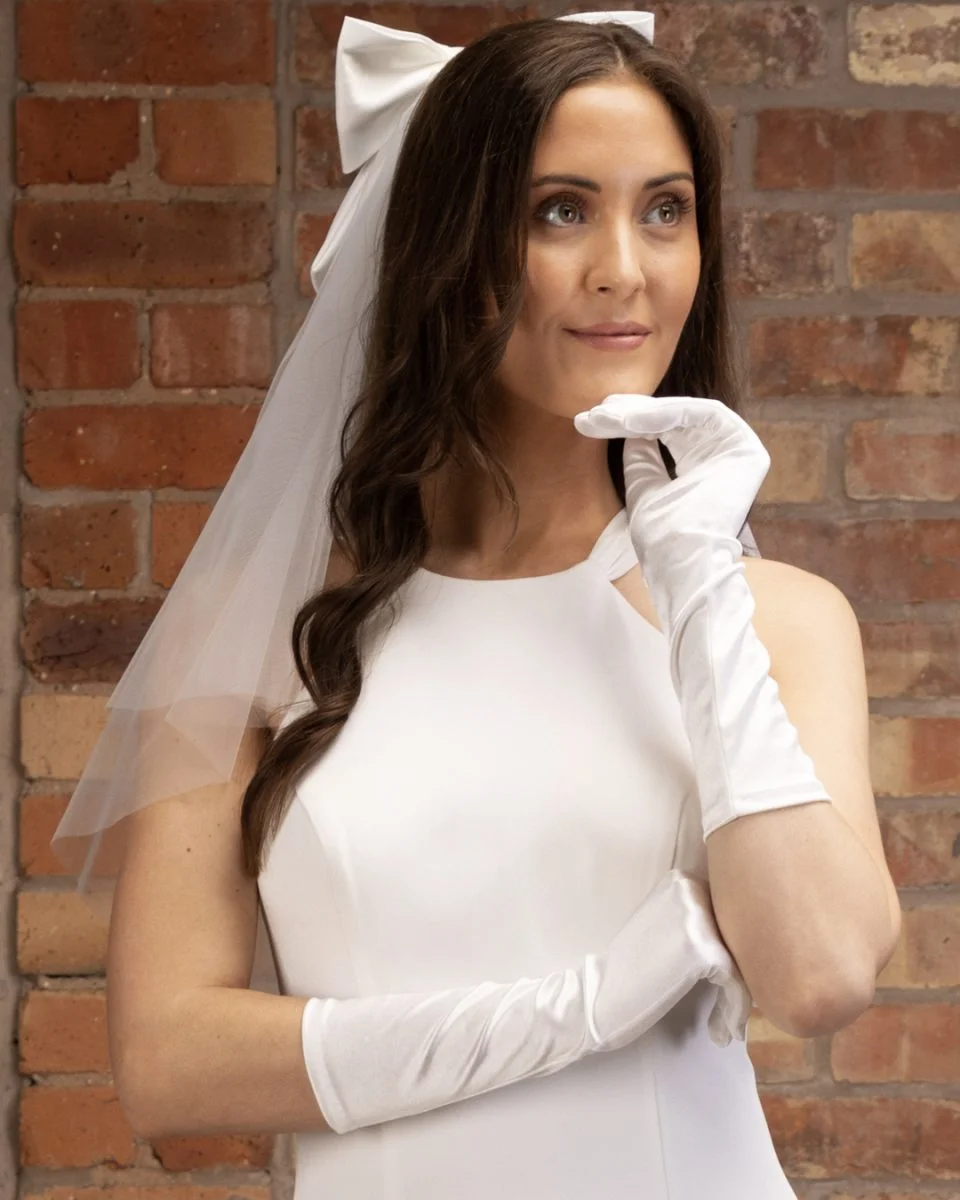 For a modern twist on a classic, our short pearl trimmed gloves PBA2022 are just perfect. Elegant see through ivory mesh gives these gorgeous gloves a lightweight feel and they are finished with elegant, clustered pearls on the wrist- almost acting as jewellery as well as an accessory!
Continuing our love of bridal bows, glove styles PBA2032 is again both classic and timeless but also perfectly up to date with the current trend. Made from soft ivory stretch satin, the statement double bow on the wrist is finished elegantly with a single oversized pearl.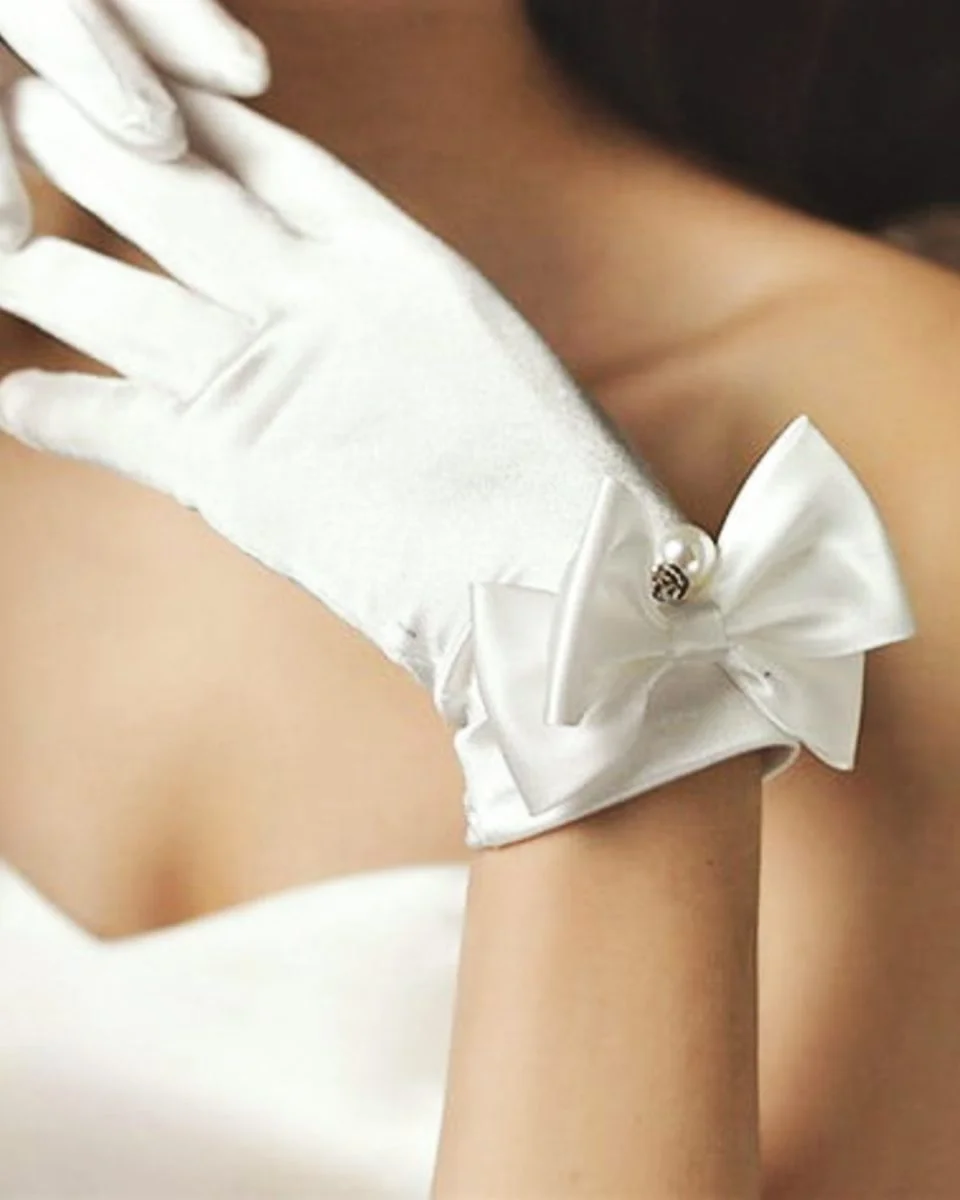 However you choose to customise your look and create your convertible wedding dress, the possibilities are endless and we're here to offer you as many options as we can! The only limit is your imagination, so have fun and let us know what you create! Start your journey with a look at our comprehensive range of bridal accessories here– enjoy!