Modern Classics- Navy Occasion & Wedding Shoes
Navy is a classic colour choice for wedding and occasion shoes and with good reason. Not only is it incredibly versatile and suits a wide range of colours, navy is also a timeless choice and adds an elegant finishing touch to any outfit. Whilst you might think black is the safest choice, navy can be just as versatile and is that little bit softer in colour where black can be a little bit too much of a contrast, particularly with paler occasion wear colours such as blush pink and taupe.
A classic pair of navy shoes will become a wardrobe staple which you'll wear again and again, so it's worth investing in a matching handbag at the same time. Whilst navy is a classic colour, it's amazing how many different shades there are on the market and it could be really tricky trying to find the perfect matching bag at a later date. In The Perfect Bridal Company collection we have two shades- classic navy and the recently introduced midnight. Navy has undertones of black giving it a timeless and classic look, with midnight having a richer, deep blue and perhaps slightly more modern tone.
Here are some of our favourite navy blue occasion shoes, perfect whether you're a guest, the bride or bridesmaid!
MODERN MIDNIGHT
Our new midnight is a beautifully rich shade of navy blue, and lends itself to some of our stunning new styles. Choose from understated and wonderfully chic modern silhouettes such as Lucinda, Margo and Daniella- each with a subtle yet stylish detail.
Lucinda is a modern block heel with our signature high back which gives a super comfortable fit. The front of the shoe is made up of two wide, rouched satin straps which knot in the centre- a timeless design which is always on trend.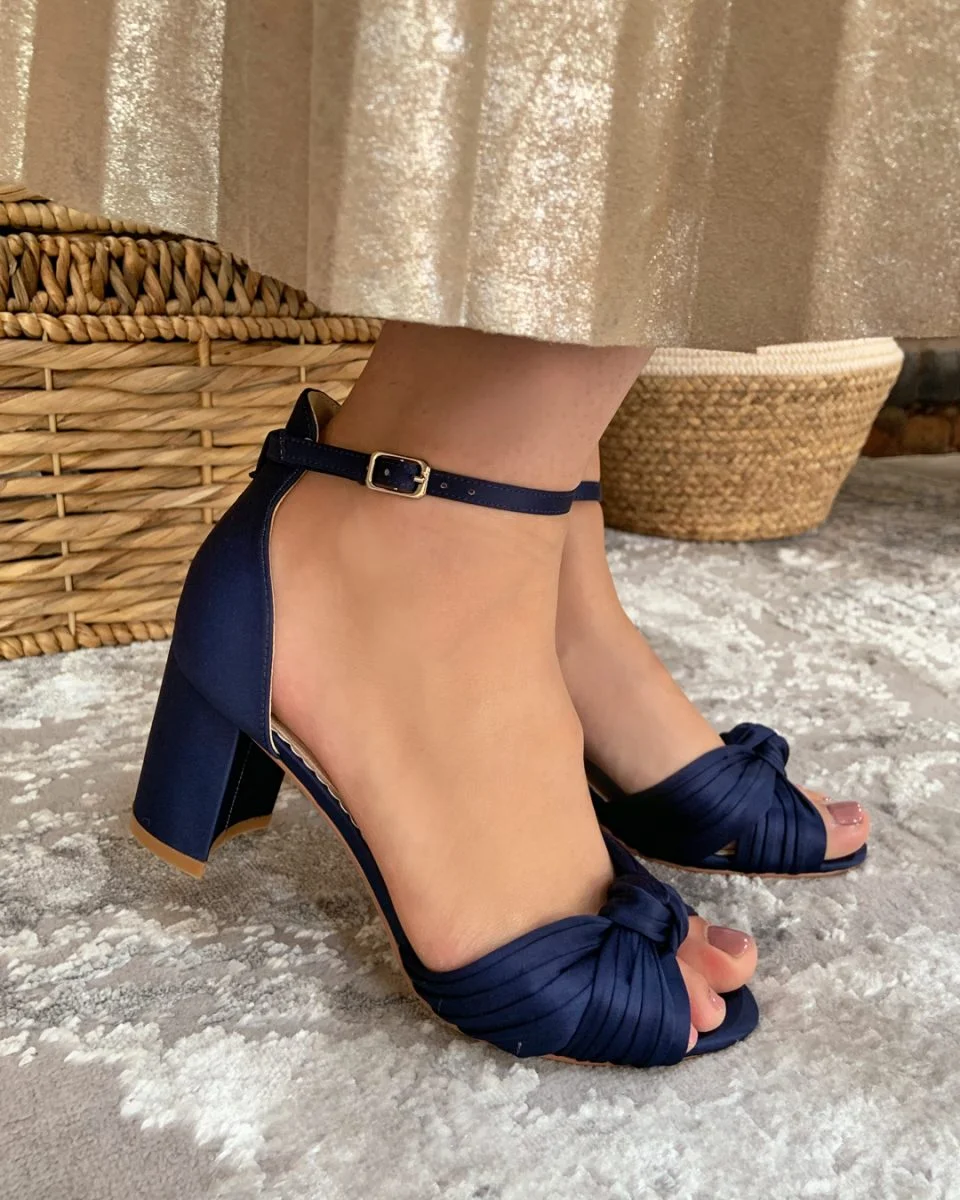 Already a bestselling style of the collection, the newly added midnight colour way works beautifully with our Margo points. A classic two part shoe sitting on a classic mid height heel, Margo is finished elegantly with a touched satin bow at the centre of the toe.
Understated she may be, but the new Daniella point has a really elegant cut which fits beautifully and really comes to life on the foot. With our signature high back and a slim ankle strap, this modern classic is as comfortable as she is stylish and is guaranteed to become your go to shoe for every occasion.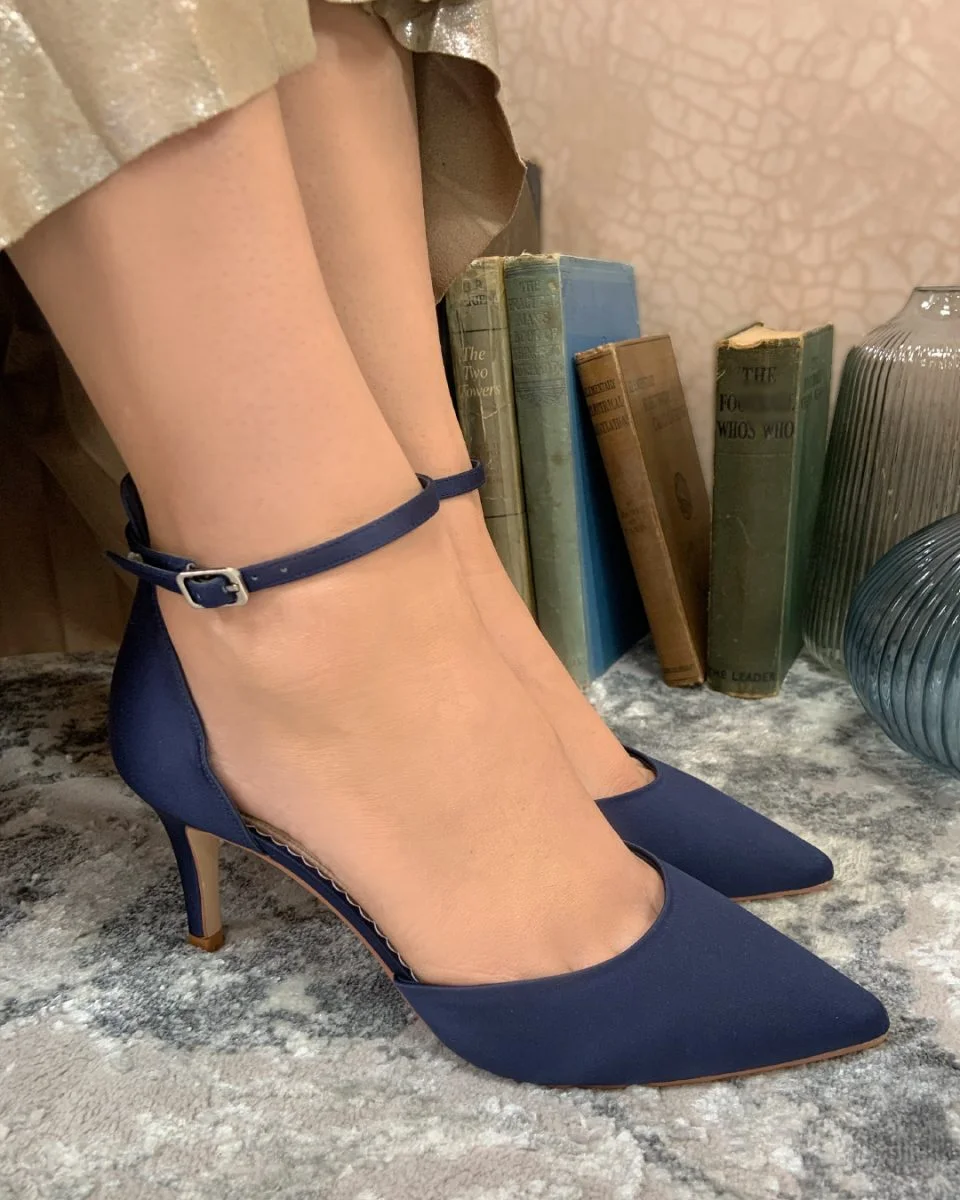 CLASSIC NAVY
Our classic navy is the perfect shade- trust us, we've sampled plenty! Rich in shade with dark undertones, it is a timeless colour which is perfect for some of our most loved classic occasion shoes such as Stara, Kitty and Kendall.
If you're looking for a pair of classic navy heels with a statement twist, Stara is the perfect choice. Made in classic navy satin, this sparkling style is adorned with all over self colour diamanté giving a subtle yet stylish shimmer.
Kitty is an elegant two part shoe sitting on a classic mid height heel, with a slim ankle strap giving you great support for day to night comfort. Crafted in classic navy satin, this timeless style is finished beautifully with a sparkling circular brooch in diamanté and pearl.
An elegant open toe with elegant crossover straps which comfortably hold the foot, Kendall is another versatile modern classic. Sitting on a concealed platform, she also gives you a little bit of extra height without compromising at all on comfort.
GET IT IN THE BAG!
As we said earlier, when you buy a pair of navy shoes it's definitely worth getting the matching bag at the same time. With so many subtly varying shades of navy on the market, even if you think you've found the perfect match you're likely to get home and discover the two are in fact somewhat different! All the navy shoes in The Perfect Bridal Company collection have matching bags, click here to check out the full collection.