Our Top 5 Low Heel Wedding Shoes
Choosing your wedding shoes can be a minefield- what kind of style, embellished or plain, traditional satin or soft suede, classic ivory or something with a bit of colour? There are enough things to think about without heel height being one of them.
Whilst some people will have you believe you have to wear a certain kind of shoe for your wedding, with the 'right' heel height, here at The Perfect Bridal Company we believe there are two factors which are the most important. The first is that you feel 100% yourself on your wedding day, and not like you're trying to live up to some mythical version of what 'a bride' should be. The second is that you're comfy. It's that simple- if you feel yourself and you're totally comfortable you'll look and feel much happier than if you go for something because you feel you should.
This is perhaps no more important that when it comes to your choice of wedding shoes. Traditionally something around a three inch heel was seen to be what one should wear with their wedding dress, but in these days of working from home and wearing more trainers whatever the occasion, many of us find even that relatively conservative heel height too high. And you know what, that's okay!
If you only ever wear low heels or flats, going for a high heel on your wedding day may not be the most sensible idea. Don't get us wrong, if that's your dream to saunter down the aisle in a pair of four and a half inch stilettos then who are we to argue- at the end of the day it comes down to comfort, so if that works for you then go for it!
For those looking for just as much style as a high heel but with a lower, perhaps more wearable heel, we've got you. There are loads of gorgeous low and mid heel wedding shoes in The Perfect Bridal Company collection, all with heels lower than two inches which definitely don't compromise on elegance. Here are five of our favourite low heel wedding shoes…
1. CLAIRE
We've been in love with the pearls trend for some time now, so are very happy that it shows no sign of slowing up for 2024 weddings. Claire is a chic low block heel with a heavily pearl embellished strap and tapered ankle strap. We love how the different sized pearls cluster together to give a really full, lux look.
2. FIONA
Continuing the embellished trend, Fiona sits on a quirky tapered block heel and is an understated but chic design. A plain curved front strap balances perfectly with the slim ankle strap, adorned with creamy Keshi pearls. The perfect combination of simplicity and embellishment.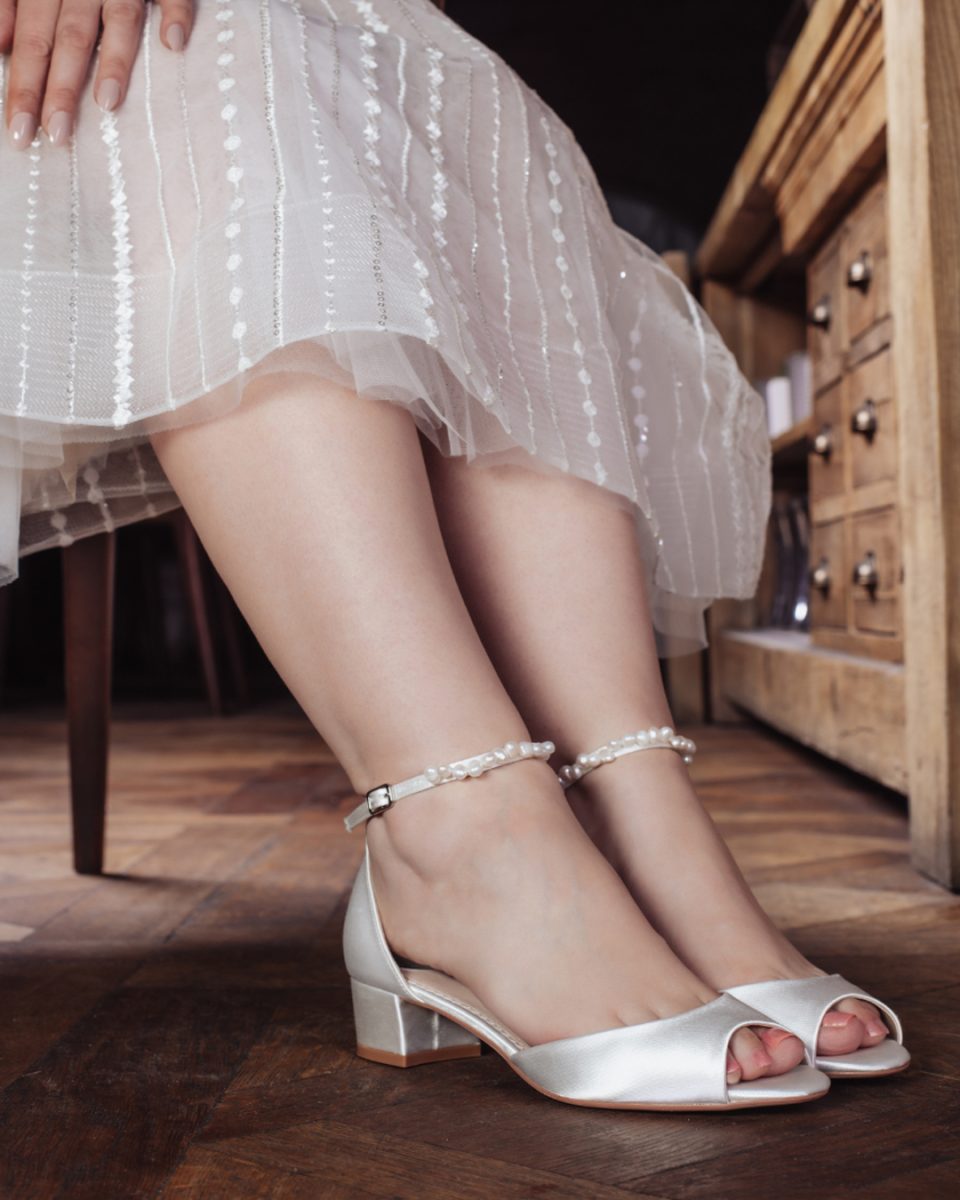 3. RILEY
For those looking for something beautifully simple, our Riley single strap block heel is the perfect choice. The wide front strap is comfortable yet flattering on the foot, and the shoe is fastened with a tapered ankle strap. Made from dyeable satin, you can wear them in classic ivory or dye them to any colour you fancy either for, or after the big day.
4. ELIZA
Want a low heel wedding shoe but not keen on showing your toes? The Eliza court is a beautifully elegant two-part shoe with a classic pointed toe and slim cut back part. What really makes this style stand out if the diamante embellished ankle strap which add just the right amount of sparkle, to catch the light as you walk down the aisle (or dance the night away!).
5. RENATE
If you fancy a wedding shoe with a slightly vintage vibe, go for something with a classic round or almond shaped toe. Renate has a definitely old school feel with a soft almond toe and tapered Louis heel, but remains bang up to date and versatile enough to suit a wide range of bridal gowns. We love the crossover strap which loops underneath the shoe itself, giving maximum width adjustability.
---
Click here to shop the full wedding shoe collection.