The Best Wedding Shoes for a Spring Wedding
As the clocks go forward this weekend marking the official start of Spring, we're getting rather excited about all those fabulous Spring weddings which will soon be here. Although weddings take place all year round and are perhaps less seasonal than they used to be, Spring and Summer are still popular months for getting married. With that in mind, and as the evenings get lighter and the sun begins to show its face a little more, we thought we'd take a look at some of the best wedding shoes for a Spring Wedding…
Getting Married Outside?
Spring is perfect for an outside wedding, whether it's the full ceremony and reception or maybe just welcome drinks before you head on into your venue. Either way, you don't want to be worrying about your shoes sinking into soft grass and getting marked as a result. For that reason block heels are your friend!
Block heel wedding shoes have a larger surface area than traditional stiletto heels, meaning you won't sink into soft surfaces such as grass or gravel. Not only that but they also give you a little more of a secure feeling (particularly if you're not a regular heel wearer!), so you won't have to worry about wobbling on less-than-even outside surfaces when you walk! You still get all of the elegance of a heel but can feel super confident- result!
Block heels can be high, mid or low- here are three of our favourites to demonstrate…
KEIRA
For a high heel with maximum support, look no further than our sophisticated and stylish Kiera block heel. Our signature high back gives added comfort, whilst the crossover straps keep you secure from day to night.

INDI
Our best seller for a reason, Indi combines an elegant mid heel with a pretty lace panel and practical ankle strap. Once again, our signature high back gives added comfort for all day wear. Also available in wide fit.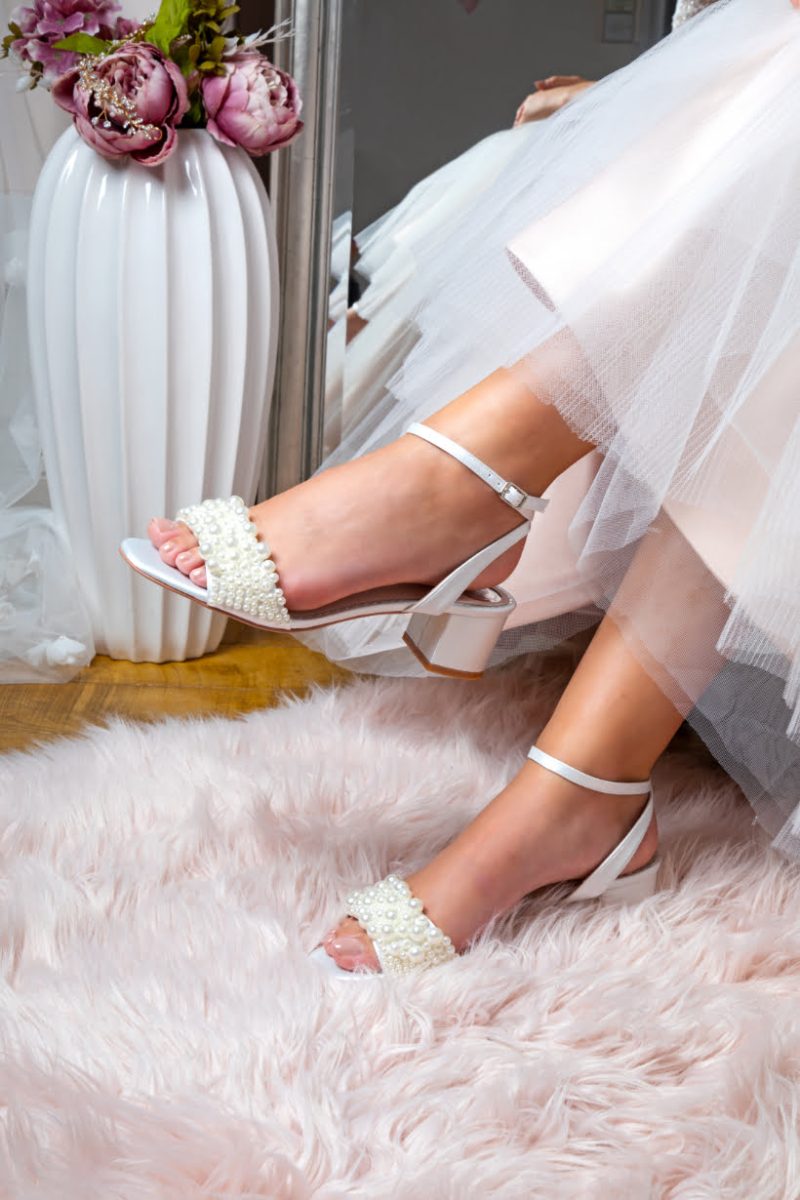 CLAIRE
A block heel wedding shoe for the low heel lovers, Claire is as practical as she is pretty. Adorned with on-trend pearls and with a light, open back it's the perfect Spring wedding shoe!
Add Some Spring Colour…
With such beautiful light this time of year, Spring is also the perfect opportunity to introduce a little pop of colour to your wedding look. We love fresh greens, shimmering metallics to reflect the evening sun and even soft taupe for a versatile neutral. The other great thing about a coloured wedding shoe is that you can wear them again after the wedding.
Can't find the colour you like? Worry not- we offer a full in-house dying service, where you can choose from forty stock colours, or we can even colour match to the exact shade you need. Simply select your shoes from our large selection of dyeable wedding shoes and we can dye them either before or after your wedding- voila!
Here are three of our favourite coloured shoes for a Spring wedding…
LIBERTY
The perfect choice for Spring, Liberty combines a practical block heel with beautiful Olive green satin. Combine with plenty of seasonal foliage for the perfect Spring theme.
SANDRA
Proving that low heels can be just as stunning as their higher companions, Sandra is a great choice for an outdoor Spring wedding. The gold shimmer fabric complements the soft evening sun, whilst the block heel is ever practical.
KENDALL
Platform wedding shoes give you that little bit of extra height without feeling like a high heel. We love our Kendall platform in taupe- the soft neutral shade works perfectly for the Spring months, and of course can easily be worn again for any occasion.
Click here to shop our full range of Spring wedding shoes.