The Perfect Bridal Collection By Kay Heeley – Interview With Bridal Buyer Magazine
Last month we were thrilled to launch our brand new collaboration with renowned dress designer Kay Heeley at London Bridal Week. The runway show was a huge success, with buyers hot footing it to the Perfect Bridal stand as soon as the show finished to see the stunning dresses for themselves. Capes, high leg splits and botanical lace are just some of the features of the collection, which gave the runway show a truly magical feel.
We also had the pleasure of talking to the trade industry magazine, Bridal Buyer all about the inspiration behind the collection, the beautiful materials and fabrics we use…as well as how we felt watching the brand new styles walk down the catwalk! As they put it so eloquently, "the collection certainly fulfilled the romantic vision that so many brides long for on their wedding day, offering a plethora of styles perfect for any size, shape, budget or taste". Praise indeed and we can't wait to see our dresses walking down not just the runway, but the aisle too as our brides style these amazing dresses their own way! You can read the full interview with over very own Dan Mutton over on Bridal Buyer's website here, but we've popped it all below for you too.
Where Did You Look For Creative Inspiration When Designing The Pieces?
We take inspiration from the key trends we see early on in the seasons and we recognise what's going to be popular. This season, it's the high leg splits and sleeves so we incorporated everything into our newest dress and accessory additions.
What Was It Like Seeing The Designs Come To Life On The Catwalk?
It's always wonderful to see the designs walking down the runway, as during the design process you can get too engrossed in the overall project that the finer details can get over shadowed. Seeing the dresses being worn, flowing and the movement makes you stop and notice the reason you designed the dress in the first instance and makes us fall in love with our work all over again.
Can You Talk Us Through The Design Process For This Collection?
Our designer Kay Heeley has such an eye for detail, and with a 20 year career in bridal couture manufacture, she really knows how to design a dress from start to finish. Kay roughly sketches out her ideas and there can be many designs to choose from, but she selects her favourites and then these progress into final artworks of each dress, complete with detailed working drawings for the manufacture stage. Kay keeps in constant communication with the production with her wealth of knowledge in construction. When the final dress arrives at our head office, Kay will make any amendments herself to ensure everything is just perfect.
What Fabrics And Materials Did You Incorporate Into These Pieces?
A self proclaimed lover of face and embellished fabrics, layering and textures, Kay designed one half of the collection featuring stunning 3D floral lace, sequinned motifs and beaded embellishments. Tulle over Chantilly lace, sheer bodices and illusion back details. In late 2022, we wanted to add some new lines into the range and Kay decided to take a subtle side step towards beautifully elegant mikado fabrics and stunning silhouettes, with just hints on the laces seen already in the collection. This has made the two collections of 2022 and 2023 marry in perfect harmony with each other.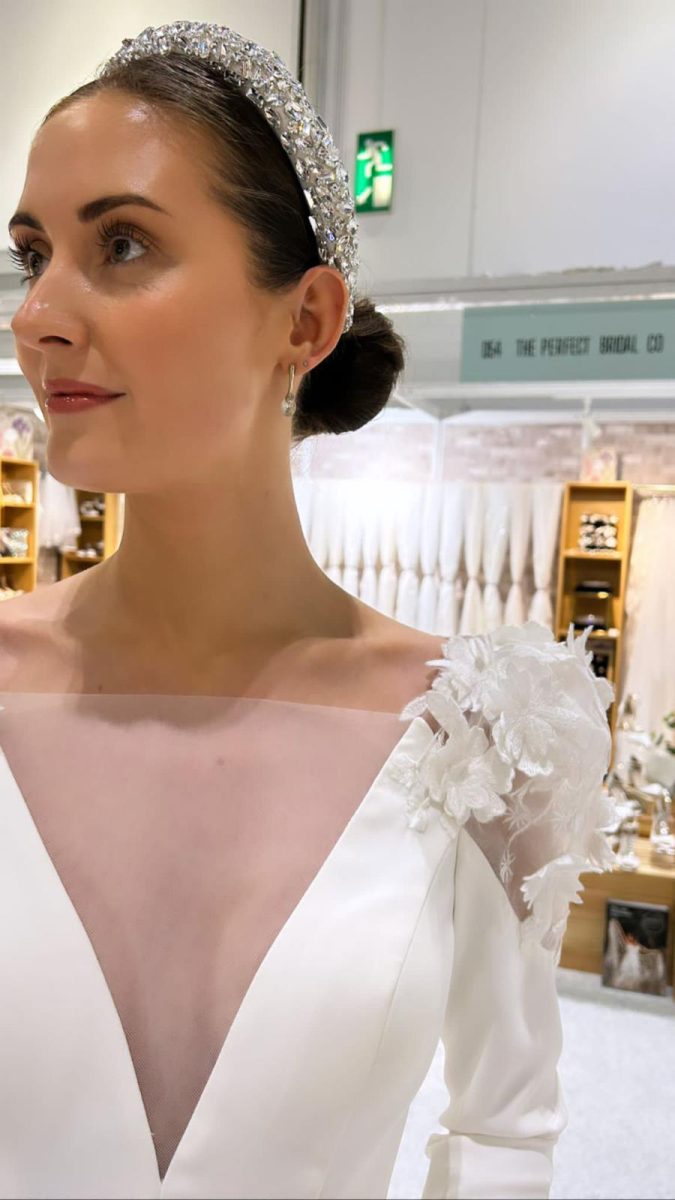 There Is So Much Pressure For Designers To Come Out With New Collections Season After Season – How Do You Keep Your Designs Fresh?
We listen to our retailers and what they want from our collections. Kay is very much part of the selling as well as the designing of the dresses, so she takes a lot of inspiration of what's being asked for. Retailers know first hand what their brides want, it's then how it's executed into a range and that's where Kay's manufacturing knowledge comes in.
Why Did You Decide To Take Part/Why Do You Think That The Bridal Week Fashion Shows Are Important?
Being on the catwalks really brings your designs to a much wider audience, so for us as a new dress brand, it's a huge way to be noticed in a very saturated market. There are so many great designers and brands out there, it's so difficult to make an impact. Doing the shows year on year, in the UK and overseas, is imperative to keeping our company at the very top of the game.
Do You Have Any Trend Forecasts For The Year Ahead? What's Going To Be Popular With Brides In 2024?
Detachable features on dresses, bridal coats and cloaks are starting to filter through. Gloves are hugely popular and this trend will carry on into 2024 so we have added many different glove and cloak items into our new accessories range to catch the wave of this trend. We also think the bridal trouser suit is growing in popularity too, so just watch out for something really special which we will be showcasing on the Harrogate catwalk in September.
Which Particular Piece Are You The Most Proud Of? Can You Tell Us A Little Bit About It?
The Sarah gown really was the dress of the show for us in London, with her beautiful princess bodice and huge ballgown skirt. The line was just so classic and sometimes all you need is a really beautiful shaped dress. Sarah's detachable cape style sleeves takes the look from beautifully simplistic to full on drama in an instant.