Top 5 Wedding Veils for 'Perfect' Brides
Let us List them out for you…
Wedding veils are the ultimate bridal accessory…
Some brides may feel that wedding veils are something that will get in the way on the big day, maybe feel the veil is slightly old fashioned, worried it will hide the details on the wedding dress or they simply don't know if a veil is the right accessory for them.
Like anything, bridal trends come and go and veils, the oldest part of the bridal ensemble, are no exception. Right now veils are one of the most popular wedding accessories for any brides wanting to add a touch of drama or romance to their bridal look.
We want to put an end to the stigma around wedding veils and the trend that just keeps on going…
Lets talk history…
The wedding veil originated as a way to protect the purity of a bride. Some ancient history reads that veils were worn by the bride to hide her face from the groom, which stemmed from the days of arranged marriages. It was only from the era of Queen Victoria, who wore her veil cascading down the back, that the modern image of the bridal veil was defined.
Is the wedding veil for me?
Veils don't have to be cumbersome or a hassle in anyway, and the modern use of the finest, softest tulle means they are light and easy to wear, can be secured in the hair by a simple plastic or metal hair comb and can easily be removed throughout the wedding day, giving the bride the best of both worlds.
There are many ways in which a veil can be worn, such as the crown of the head – which is the more traditional position for any bride wanting to wear the blusher layer over her face – or just to have more coverage over the shoulders. A more modern approach is to wear the veil further back or below an 'Up Do' hairstyle. This position means the veil will just fall down the back and not around the shoulders. Its all dependent on the desired look.
So what style wedding veil to choose?
We have a range of wedding veil styles and designs in our collection to suit everyone, and these are our top 5 wedding veils for 'Perfect' brides: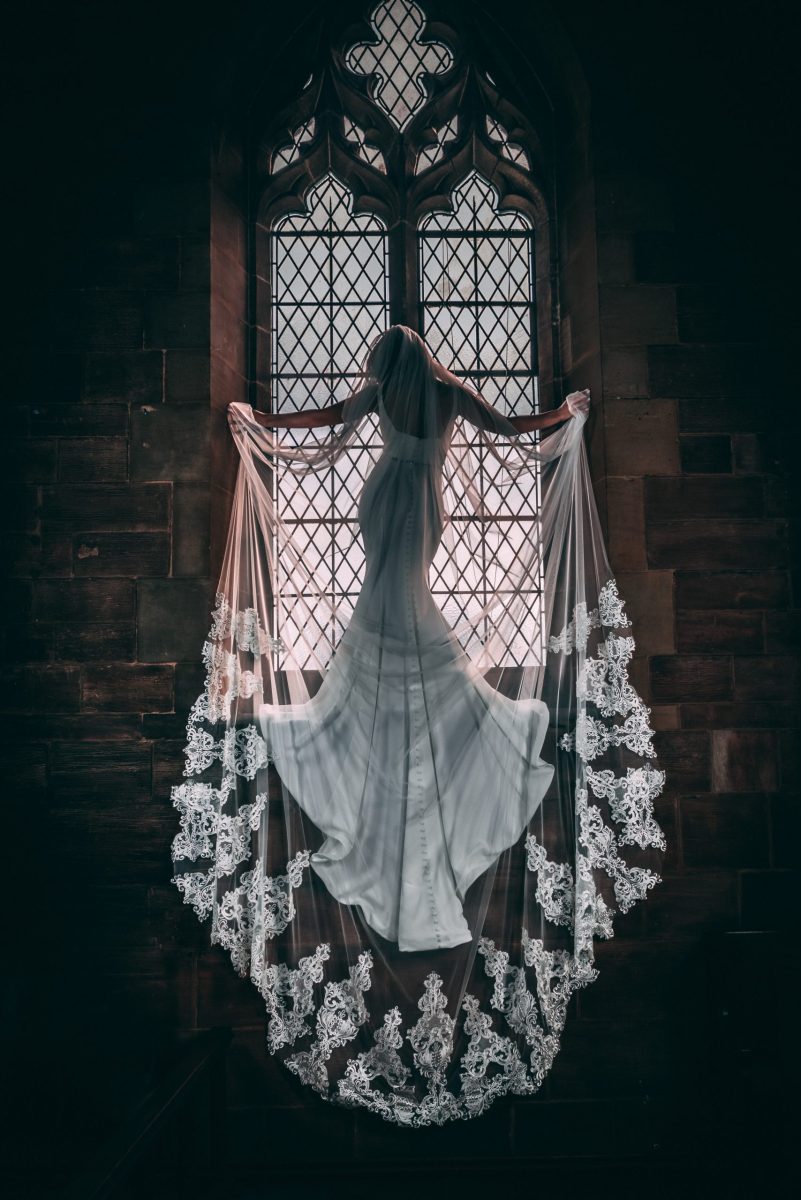 This cathedral veil is the ultimate accessory for adding drama to any bridal look. A popular trend right now is the look of an illusion train, which like a veil, looks stunning but can be unpractical – particularly for the evening reception.  So we love the idea of creating this look with a cathedral length veil that can easily be removed once all the formalities and pictures are complete.
One of our ultimate best sellers is this beautiful 3D floral full length wedding veil in a single layered tulle. So popular that we now do this design in 3 lengths. Oozing whimsical and Boho vibes, this beautiful veil is the epitome of prettiness yet still dramatic and full of the wow factor, it would compliment the plainest of dresses to the more elaborate of wedding gowns.
A classic staple in our collection, this 2 tired soft tulle veil has the most delicate and versatile of edges. Beautifully sewn on ivory pearls adorn a cut scalloped edge to make this short veil the ultimate 'go to' piece to compliment any bridal look. Definitely a favourite of ours.
A lace edged veil will always be a firm favourite amongst brides as the look is so romantic. This veil is no exception with the pretty floral chorded lace edging around the 2 tiered design. Adding that added drama and glamour to the plainest of wedding dresses, or complimenting a lace gown as well. You really cannot go wrong with a design like this to complete your wedding gown.
Sometimes… simply less is more.
Just beautiful soft tulle cascading down over a gown, in any length, one or two tiered, the plain veil just wins every time. When a bride is maybe unsure on a having a veil, this longer veil is just the perfect compromise.
So there you have it… our ultimate picks to make wedding veil shopping an easier task.
Your local bridal boutique and our stockists will also have a wealth of knowledge when it comes to helping you choose this popular bridal accessory.
Veils come in a variety of different tulles, mostly soft, and also in a mix of ivory and white tulle to match your dress.
They also come in a variety of lengths:
Shoulder
Elbow
Waist
Fingertip (All around 75cm-90cm)
Knee •   Floor (Around 90cm-150cm)
Chapel length (Around 200cm-300cm)
Cathedral length (Around 400cm)
Queen length (Around 500cm)
This is something your stylist or bridal boutique can help you decide on and choose the right length to suit.
The main factor to consider in all this, is the veil can be whatever you want it to be: a traditional veil, a cathedral veil, long veils, short veils…there are no set rules. If a wedding veil feels right for you, just have fun deciding on the ultimate bridal accessory!