Trend Alert- Bow Veils And Statement Bridal Bow Accessories
Timeless, classic and undeniably feminine, bows have always been popular for weddings. Look back at historic and iconic weddings and you'll no doubt see bows featuring in some form, whether that be on the dress itself, in the bride's hair or even on her wedding shoes.
However, it's fair to say that the humble bow is having something of a revival. No longer a simple decoration happy to sit quietly in the background, we are loving the bridal trend of statement bows and it's fair to say have incorporated this into The Perfect Bridal Company collection with excited enthusiasm! From top to toe we've got the bridal bow trend covered- today we're looking at hair accessories and our amazing detachable bridal dress bow!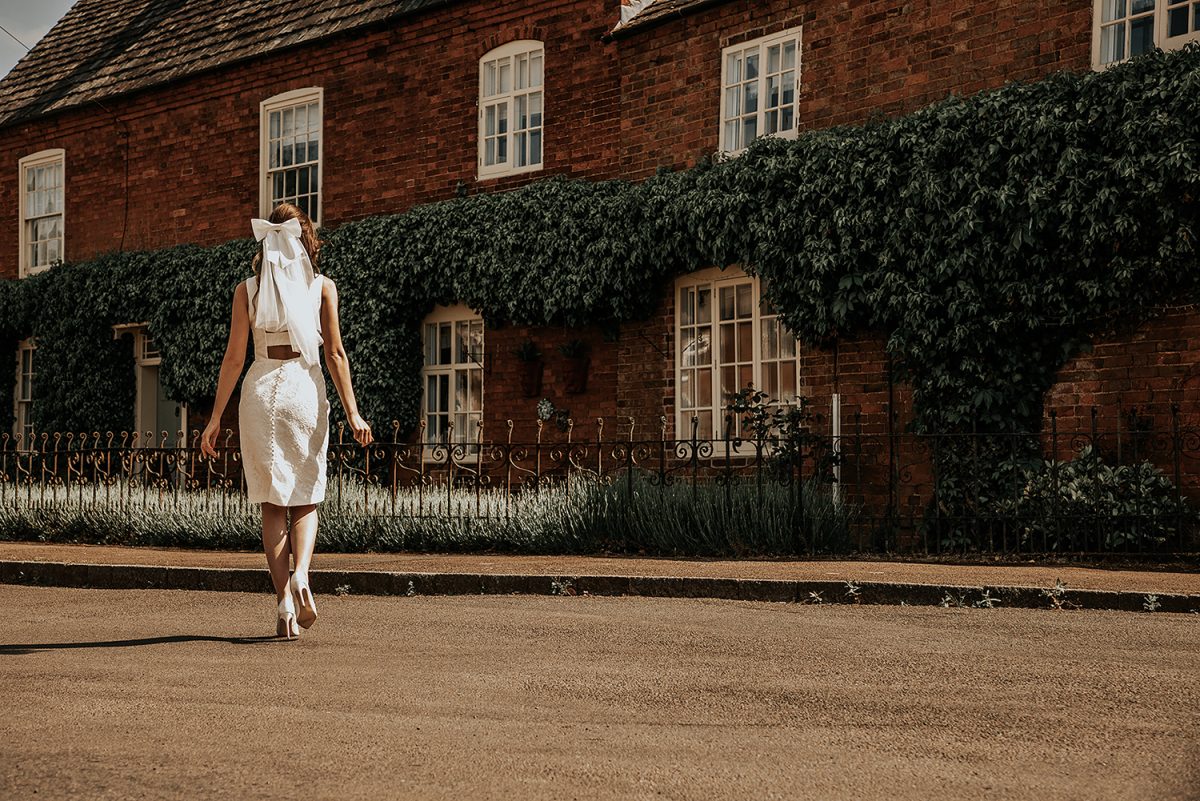 Bow Veil
Our stunning bow veil (Style PBV9062 ivory ) is the perfect statement accessory to create a modern bridal look- perfect for a city wedding or civil ceremony. A short tulle veil sits underneath an oversized satin bow, bringing a definite touch of fashion and fun to your look.
Here we've paired it with a short, fitted shift style dress and ivory courts (Style Meghan) for a sixties inspired vibe- finished perfectly with bow & pearl trim gloves (Style PBA2032 ivory). The veil is placed slightly higher on the back of the head, at the base of a sixties inspired half beehive.
Whilst a bow veil definitely brings a more modern edge to your wedding look, the beauty of it is that it is also versatile enough to be worn in a more classic way. Here we've styled our bow veil with a more traditional floor length gown with train. We've also placed the veil slightly lower on the back of the head to give a more timeless feel to the overall look.
Hair Bow
Another favourite if you're looking to rock the bridal bow trend, is our gorgeous Hair Bow (Style PBH7049 ivory). Made from soft yet structured ivory tulle, this oversized bow clip is adorned with a generous scattering of ivory pearls, giving an on-trend update to a timeless bridal hair accessory.
Here the hair is worn down and we've styled it with the bow worn towards the top of the head. This also works perfectly with the hair styled up, for example worn at the base of a low bun.
The versatility of bridal bow hair accessories is that they're not limited to the bride herself and can be worn by the whole bridal party. Bows work particularly well for younger members of the bridal party, such as your flower girls- see below for a super cute half up do with our pearl and tulle hair bow.
DETACHABLE DRESS BOW
If you want to go all out with the bow trend, another option is to add a deliciously huge statement bow to the dress itself! Our detachable bridal dress bow (Style PBA2036 Ivory) is just perfect for customising your bridal gown, and also for creating two looks for the big day. For example, wear your dress with the bow for the ceremony before taking it off to leave you with a sleeker look for the evening.
Structured ivory tulle with long flowing tails, this bow works perfectly worn at the back of with an understated gown, as illustrated below.
However you wear the bridal bow trend, make it your own style. From bow veils to bridal hair bows, detachable dress bows or even bows on gloves, the main thing is to have fun with it! Oh, and we've not even started on wedding shoes with bows…
All styles pictured are now in stock, with the exception of the detachable dress bow which is available to pre-order for September delivery.
---
Click here to shop the full hair accessory collection, and here for veils.