'We love a photoshoot…' Behind the scenes of our brand new accessories shoot.
February is the month of love, with Valentine's day fast approaching, we had to do something we love… a photoshoot!
We take a behind the scenes look into the work involved at one of our shoot days, and the fun we have experimenting with looks and lighting to capture our perfect new products, so grab a cuppa, get comfy and enjoy this blog!
The day before, the prep starts!
The dresses are selected that we will use for the shoot, and they are spot cleaned, repaired, pressed and left overnight to keep them pristine and ready. Our dress designer and creative director Kay is in charge of all our photoshoots and she does plenty of research into the current trends and styles of photography prior to the shoot being booked.
Kay liaises with Adam our photographer to select the perfect venue or location, in the case of this shoot, we chose Adam's brand-new studio in Yorkshire with simple grey back drop for a more neutral, softer look this year. Adam and Kay work together selecting looks and inspiration of similar products in the market to build the timetable for the day. Often our photoshoots take hours if not days as we have such an extensive collection of products, so everything has to be timed in order to keep on schedule and ensure everything gets photographed.
The day of the shoot.
9.30am. Our beautiful model Dee arrives with hair and makeup done to perfection, and we carefully load up the car with the dresses, bags of accessories, steamer and refreshments ready to head to Adam's studio. It's actually walking distance from Kay's house but we never travel light!
10am. We arrive at the studio and help Adam set up the lights and the backdrop. We hang the dresses and make sure everything is laid out in order so nothing is missed.
A final press of the dresses and new veils ensures they are crease free and pristine.
11am. First dress goes on, a stunning black ballgown with sparkle tulle and a beaded belt from our 'Private Collection' teamed with a 2 beautiful brand-new veils, one a 2-tier black veil with lace edging, and the other a stunning single tier glitter tulle with beaded crystals.
For such a dramatic look, Dee's famous smouldering pose is ideal, and we experiment with lighting and different poses to capture the detail in these veils without them getting lost in the black gown.
In the end we decided on the final edits to use our unique black and ivory flower printed chiffon gown for a more dramatic look but with a fun twist. Dee really had a ball twirling around in this dress and veil combo, and the final image was a flip of the cape to create a really dramatic visual… just for fun and because we can!
12pm. Bring on the black birdcage headpiece. With such a demand for black gowns, what better finishing touch but a dramatic diamante birdcage headpiece. Forgetting the fact, we are dressing Dee all in black, weddings are joyous occasions so to prevent the look being too sombre, Dee, having a fit of the giggles, as she often does, enabled Adam to get some really cute shots that actually worked perfectly.
12.30pm. Lunch break… and a chance to view the images taken so far to see if we need to improve or reshoot anything before carrying on. For a few of the product shots, we play around with placing them on the grey cardboard back ground to really capture the intricate designs without losing any focus.
The difference between a product shot, and a normal posed shot, is the product shot is to focus on the detail without the distraction of what's going on with the model or the background. A posed shot is to create the impact and the feel of the product in use, so it's vital we capture both including close up clear images of veil edgings and beadwork.
1pm. Dress change number 3, a beautifully classic plain Mikado satin dress of an A-line silhouette. Kay chose this gown because of it's simplicity so not to detract from the accessories which is the main focus of this shoot.
A final steam of the dress once Dee is in place to ensure it is totally crease free, we start the numerous new sleeves and gloves that we are introducing into our range.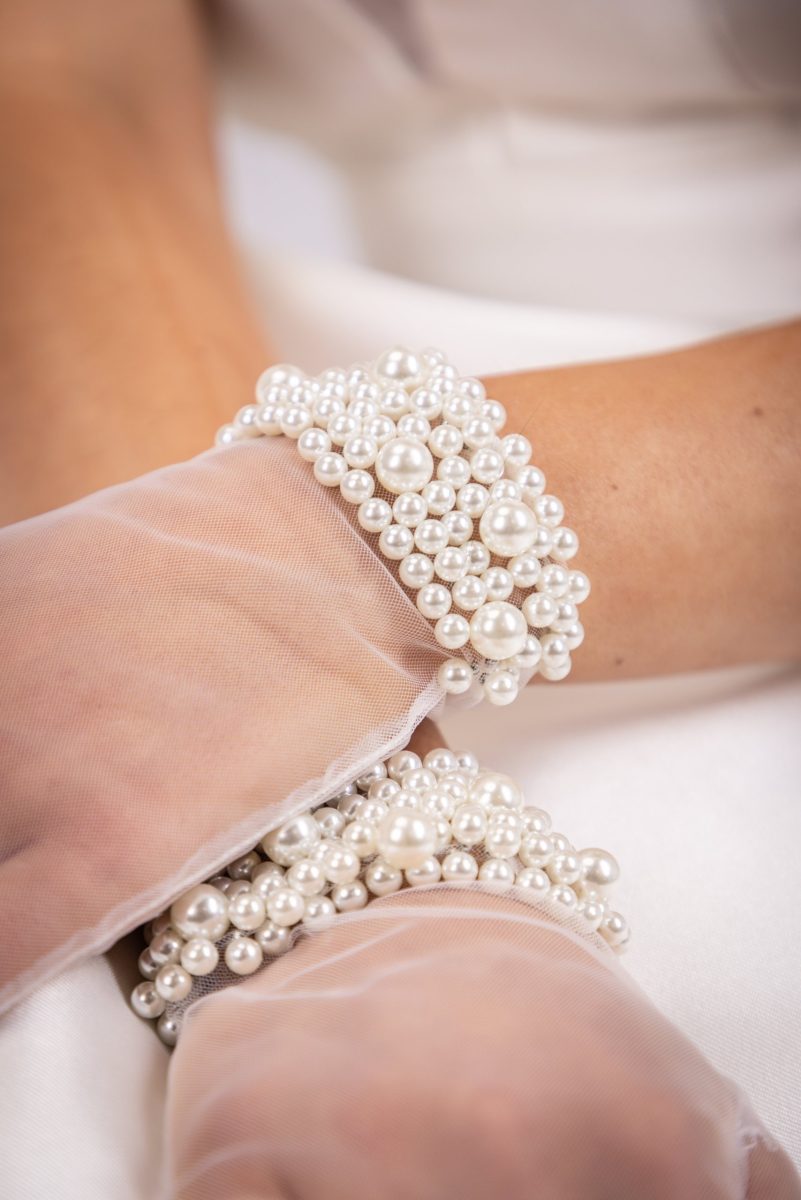 First up are some pretty little pearl gloves that finish at the wrist, the detail of the pearls on the cuff are so beautiful and on trend. Our incredibly popular pearl shoes and veils made it inevitable to include some gloves with pearls too. Also carrying on the pearl vibes, our hugely successful sleeve cape inspired us to create a pearl version with fits both dresses with shoulder straps, to strapless designs with the clever, easy sew in strap edge.
1.30pm. Continuing with the gloves, we shoot numerous styles including a delicate long Chantilly lace version, and some soft tulle with diamante detail. Wearing the gloves loose and 'slouchy' is hugely on trend, and Dee really had fun with these, dancing along to Madonna's 'Vogue' that we had playing in the background.
2pm. The final looks of the day are a couple of styles that are our favourites. A beautiful pair of polka dot, gathered tulle gloves, and a stunning voluminous pair of tulle sleeves with a full ruffle cuff.
The looks we created with these pieces really are the shots of the day… we tend to save the best for last!
2.30pm. That's a wrap! Such a fun and productive day that actually never feels like work! A team of creatives getting together to create art… over 200 images taken in those few hours!
With another successful day under our belts, we pack everything away and reload the car and all go our separate ways. We eagerly await the edits from Adam in a few weeks, though we do normally get some sneaky peaks a few hours after the shoot, as he downloads the images from his camera and can't resist sharing with us!
Now for London Bridal week in March, which is fast approaching, where we will be showcasing all these new products and images with our retailers, ready to pass onto the future brides to be!
Days like this is why we love what we do… fun days capturing our 'Perfect' Products. We hope you enjoyed reading this blog as much as we did creating it.
Love Team P.B x