Wedding party member must haves.
The bride may not be carrying a bag for most of the day, but any member of the wedding party should always think of an essentials kit!
Meticulous wedding panning on the lead up to the big day can take months, and you think you have thought of everything, but it's inevitable that something, however small, will get overlooked.
Unfortunately blisters, outfit malfunctions can happen. Smudged makeup due to mixed emotions can happen… rain can happen. There are certain things that even the most meticulous planner can't predict. So, to help out, we have a list of essential handbag items that will hopefully give any bride the heads up for every eventuality.
1. Sewing Kit.
You have picked your dress, had it expertly fitted, and it's all pressed and pristine for the day. But… just like anything else, things can go wrong when putting the dress on, or throughout the day. A hook and eye or a button can come loose or fall off, the zip can get jammed, or a seam can rip. Just like any item of clothing, a wedding dress is not made like a suit of armour, the complete opposite actually. Wedding gowns are made using very delicate fabrics are designed to be worn for 1 day, so they are probably more prone to damage than anything else you have worn.
A small bobbin of cotton that matches your dress and a fine to medium thick needle is the number one essential item to have in the sewing kit. A fine beading needle for any loose beads is perfect, and a medium needle for any other sewing needs will be just fine.
Also, a pair of very small scissors is always handy as on some embellished gowns, loose threads can be seen.
It's always handy to have a few spare safety pins, maybe a couple of spare buttons or beads, these are items you normally get with the dress anyway so always a good shout to keep hold of these just in case!
2. Tissues and Baby Wipes.
Everyone gets emotional at a wedding and surely the bride more so than any of the guests, so tissues are a MUST!
Not just for tears, tissues can be kept handy for correcting makeup, mopping up any spills of champagne or wiping hands and fingers after the canapes. Lots of stores sell super cute mini tissues that come in pretty packets which you could even match to the colour scheme if you really wanted!
A top tip for any marks on the dress throughout the day, is baby wipes. As they are delicate for baby's skin, they are perfect for your wedding gown! Marks on the dress can happen at any point from the first glass of bubbly, to getting into the wedding car, always ensure baby wipes are in someone's handbag!
3. Plasters.
It doesn't matter what shoes you have, or how comfy they are, you are on your feet all day and they will swell. Plasters are a MUST HAVE! Make sure you get the pre-cut ones, not the plasters on a roll so they are easily unwrapped and placed. No need to spend money on the expensive blister plasters either, just ordinary ones will be better as they don't have to be for feet, use for any cuts or grazes that may happen throughout the day.
Top tip, the fabric plasters are better than the waterproof ones as they seem to have more cushioning, and as an avid high heel shoe wearer, and years of trying and testing, they do stay on better too. Plus, we have noticed they are now available for all skin colours!
4. Compact mirror and lipstick.
After numerous glasses of bubbly, the most hard wearing of lipstick/gloss will come off or need retouching, and there isn't always time in between mingling with your guests to go to the bathroom to check your makeup and hair. So, a compact mirror and a lipstick/lip gloss is another handbag essential.
5. Painkiller tablets.
A headache can come on at any time, and from experience of going to a lot of weddings, key members of the bridal party hardly stop to eat on the day as they are too busy mingling with the guests, and mainly the bride and groom being the social butterflies. So, a lack of food combined with mixed emotions on the day can lead to a headache, therefor, always ensure you have a small pack of pain killers on the must have survival list!
6. Mints and chewing gum.
No one wants to be speaking in close proximity or leaning in for a kiss with the taste and smell of numerous finger foods on their breath, do they?
Feel minty fresh all day with a packet of mints or chewing gum. Mints are the best choice as then you don't have to chew tasteless chewing gum for hours on end or awkwardly try and get rid of it throughout the day. Most supermarkets sell travel sized tins or packets of fresh breath mints that easily fit into one's clutch bag or pocket.
7. Perfume.
Throughout the day, like your makeup, you may want a freshen up with a spritz of the perfume as well. We don't mean you have to carry around your massive bottle of Chanel no5, most perfume suppliers give away small handbag sized sample bottles, or failing that, maybe purchase the smallest size of your chosen perfume for the day so you can freshen upon the go.
8. Sanitary products.
Ladies…. We all know we can be caught out with the time of the month, so sanitary products are a must! There is nothing worse than being without intimate products when the time comes so you must be prepared unless you know it's definitely not going to happen. But calling all true girlfriends, you may have a friend in need so probably best to pack some just in case, and there are really discrete options available from local stores, perfect for ladies on the go.
9. Anti Histamines.
We have covered painkillers earlier on, but another good standby is the good old anti histamine tablet. Tell allergies to 'DO ONE' especially for those summer outdoor weddings. If you are a sufferer of hay fever, there is nothing worse than the itchy eyes, nose and throat, so best to have an emergency supply if possible. Even if you have allergies to pets, some weddings now include our fury friends, so best be prepared to cover all bases!
10. Phone.
The bride and groom shouldn't really feel the need to carry their phones as everyone they want at the wedding will be there, hopefully! Plus, they have a professional photographer on the day to capture the magic, but other members of the bridal party may wish to have their phones with them for emergencies. With the endless popularity of social media, capturing spontaneous moments and selfies with guests and the happy couple, the phone is probably the most essential item of all, so we had to include it in our list!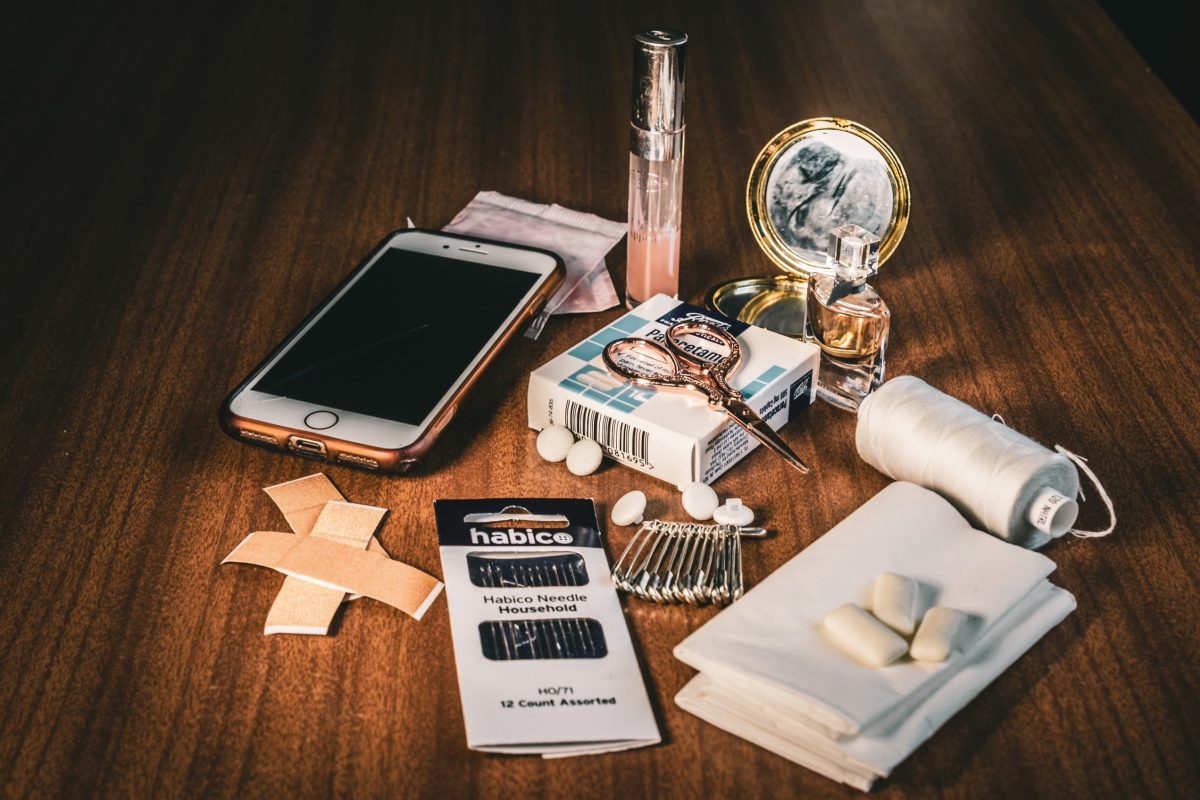 So, there you have it… everything you need on the big day, making sure you don't fall short of any unexpected mishaps. And just to prove you can fit all these items in a clutch, we have tried and tested our Evie bag, and it CAN be done.