What to expect from your wedding dress fittings.
Let's talk customising and alterations…
What to expect from your wedding dress fittings.
We here at Perfect Bridal HQ pride ourselves on being experts in all areas of the bridal industry and a new addition is to have the knowledge of our dress designer Kay Heeley. Kay is always on hand to offer valuable advice to our stockists when it comes to customising your look on your wedding day, with over 20 years experience in the Bespoke Bridal industry. Kay has created this blog to help brides with one of the most important factors to consider when buying a wedding dress… ALTERATIONS.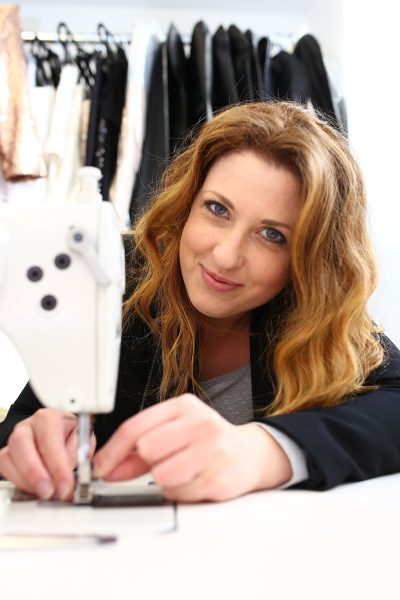 "The modern-day bride today loves nothing more than the feeling of customising her wedding look as we all enjoy a little individuality… why? Because we can!"
Your dress journey starts here.
"So, you have chosen your dress, its on order or you may have bought an ex display sample. Either way the dress will need some sort of modifications to fit perfectly, and unless you are having a dress made to measure from scratch, the majority of dresses are made to a sample size based on 3 main body measurements. The bust, the waist and the hips.
Just like any clothing, we are all different shapes and sizes and not always a set size, and it's no different for wedding dresses either
Most bridal boutiques offer either an in-house alteration service or can recommend a trusted alteration specialist who can help get your dress to fit perfectly.
Putting the finishing touches to your gown should be an exciting experience but there are some factors to consider when having alteration work done."
Do your research.
"Speak to the specialist who will be carrying out your alterations and make them aware of the changes you wish to make. If you have been recommended by the bridal boutique where you bought the dress from, they should be already trusted with your dress but always read reviews and see previous work they have carried out to ensure you are totally happy and at ease."
Alterations do cost money.
"Like any skilled craftsman, sewing is a highly intense job, especially when dealing with such precious items like your wedding gown. Altering a wedding dress is not the same as taking a pair of trousers to the local dry cleaners to be shortened, so be prepared to pay for this highly skilled and labour-intensive work.
Your seamstress should give some indication of price at the first consultation or if not, don't be afraid to ask for a rough estimate based on previous work they have done.
The sooner you ask this, the easier it will be to budget in the lead up to the wedding so no unexpected shocks occur weeks before the big day."
What's the process and what to expect.
"Some boutiques offer in house alterations but many don't, but they should send you away with your dress and a list of recommended trusted seamstress or alteration specialists to book in with. The first thing to do is get booked in with them as soon as possible as many good seamstresses get booked up months in advance, especially during peak summer wedding seasons.
On the first consultation you must have your shoes and any specific underwear ready, as this will determine the fit and dress length for the alteration process.
You will have a series of fittings, possibly 2 or maybe more, it really depends on what amount of alteration work you need.
Some brides will want added bespoke extra's adding, and customisation to their wedding look, so this will also affect the number of fittings you will need and also the cost as well. Be sure to discuss in detail everything with your seamstress so communication is key!"
"Most alterations are done in stages so your first fitting will be to determine the work and do the pinning.
The second appointment will be to check the work so far and make any further adjustments if needed. It is really important to remain the same weight at this stage as altering dresses a second time can be tricky and also more importantly will add to the cost! That said, try and get your target weight to what you want it to be before the first fitting ideally, to keep within budget and for the sanity of your seamstress too!
On the final fitting the garment should be almost perfect and finished, if not finished already, and ready to take home or to the venue. Make sure you check over everything and insist on a final try on to avoid any last-minute panics.
It's also worth asking your seamstress about a steaming/pressing service too as I'm sure you don't want to be getting the iron out on it yourself, right?"
What do I do when collecting my dress?
'All dresses should be in a gown cover of some kind, or a bridal box. The best way to transport a freshly altered and neatly pressed gown, is in fact in a double duvet cover. Yes, you read that correctly! It's basically a big cotton bag and allows the fabric of your dress to breathe and not be squashed back into a box or a gown cover. It's a great way to keep the dress hidden from any prying eyes if you don't happen to take it straight to the venue.
In terms of transportation, now this is IMPORTANT! Please ensure you have a clean, empty car with seats down or a big open boot space to place your freshly pressed dress. No pets or kids in the back if you can help it, the more space you have the better and less stress for you. Let IT be your precious cargo, not your entourage of bridesmaids, family pet, the food shopping and Aunty Flo on a day out!"
What to do when you get your dress home and to the venue.
"The first and best thing to do is place your dress somewhere that will be undisturbed and not seen or touched by anyone you haven't given instructions to. This is hung somewhere high like the top of a door or on a hook where the dress isn't crumpled on the floor, and the train can be spread out in plenty of space. Hang the dress with the back facing outwards so the train can be laid out fully.
If you do find a few creases, you can always hang the dress on bathroom door and turn the shower on hot, obviously well away from the dress, and just let the steam do its magic.
So, there you have it, one perfectly purchased, perfectly altered, perfect dress for your big day! Now all what's left to do is walk down the aisle and enjoy the wedding!"
Love Kay xx