When should you buy your wedding shoes?
To buy or not to buy, that's the question… buying wedding shoes is really down to personal choice and how organised you want to be.
Some bridal boutiques offer ranges of shoes for brides to browse when they choose their dresses but for some brides that seems like a commitment a little too early so prefer to leave the shoe buying until later on in the planning process.
Some brides buy their shoes BEFORE they even commit to a dress!!! Yes, that's true!
With the ever-growing savvy shoppers relying on online inspiration platforms such as Pinterest and Instagram, brides are getting their idea boards built up before they even set foot in a bridal boutique, and their perfect ideal shoe inspiration is no exception.
If you are a shoe lover, the shoes may be as important as the dress and can determine what style of dress to go for, and there are certainly no set rules that you have to buy a pair of shoes after you find your wedding dress. Let's face it,  shoes are relatively inexpensive compared to other areas of the wedding such as venue and the dress, so if you see a pair that really sets your heart on fire, then why not just go for it and BUY THEM!
So, before you question when is the right time to buy or not to buy, here are a few points to consider when committing to your wedding shoes. If you have indeed already got them, what to do, ensuring your feet are as happy as you on your big day.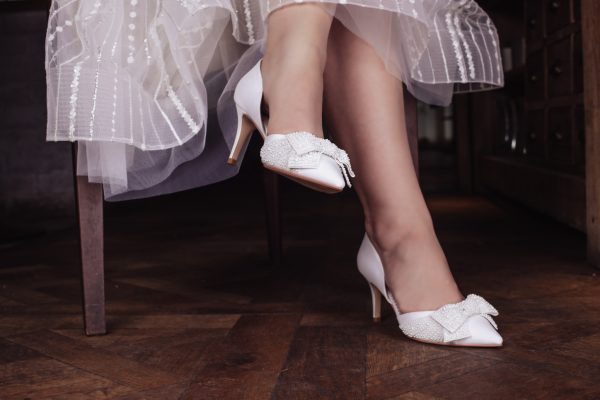 Practicality is key.
We all love the thought of a beautiful pair of heels, but in reality, can you last all day wearing them? Stood for the ceremony and pictures as well as dancing the night away? There is nothing worse than sore feet is there?
So, our advice would be to always try the shoes on as soon as you get them to avoid any dramas on the lead up to the day. Every brand of shoes, just like clothing can differ from brand to brand so you may not be the size you are in other shops. Some shoes may be narrower than others and straps to consider, so always try them and have a walk around to make sure they fit perfectly.
A well-made shoe should not really need wearing in too much, and don't forget leather and satin shoes can give slightly in time too, so it's really important you try them well before your fittings start, which leads us nicely into the next point. If you don't want to mark or scuff them when trying them on, a top tip would be to pop a pair of white socks over the top and wear them around the house.
You will need your shoes for the first dress fitting.
The shoes are fundamental to the length of the dress, so it's really important that you have the final pair at the point of your first fitting appointment with the seamstress. Normally the length of the dress is done in a series of fittings when the work is carried out delicately and not just cut off and re stitched in one go.
 Another important point to remember is to bring your shoes to EVERY fitting. Not only are they imperative to the length, they also make you stand differently given the heel height so it's really important to not be changing your mind half way through the process. 
Can I change my shoes from daytime to evening?
Yes, you can! Some brides change into flat shoes or lower heels for the evening shenanigans, and that's absolutely fine and wise, but just remember any drop in heel height will make the dress length longer. If you are happy with this, then your good to go!
Check the new collections and discontinued styles to stay hot on trend.
It's always wise to check with the boutique owner or the designers, what collections are coming out and when, if you want to be in the current styles and collections. Most high street brands bring out collections every season, so if you have a summer wedding, it wouldn't be the best time to shoe shop in winter and vice versa. So, bearing that in mind if you are getting married in summer, maybe look the year before the big day, making a mental note of any styles that may be discontinued sooner rather than later in case you need to swap and change sizes and styles.
Here at The Perfect Bridal HQ, we are developing shoe collections all year round and normally launch 1 main collection per year and that's normally showcased in September at the largest trade show, so these will filter through to shops in the coming weeks after this. Our collections run for a minimum of 12 months so slightly different to online or high street stores, and the best sellers can get carried forward to the following year so always worth asking the boutique owners for a heads up on popularity.
Remember the lead times for ordering.
If you are ordering from a bridal boutique or online retailer, the lead times for ordering can take a few weeks or a few months to come in. Not all retailers hold a massive amount of stock and some may only have a few sample pairs that they order from, so be mindful when enquiring/ordering and don't leave it until the last minute.
So, there you have it, your shoe shopping experience should really be as enjoyable as finding the dress, and dropping on the perfect pair may take you a while, or it may take you a couple of days, who knows, just have fun and try not to get too stressed. The main thing is, if you haven't already bought your shoes, just allow ample time to avoid any last minute rushes, panic buys and stress.
If you still don't know what style you want or like, and need extra inspiration, head over to our shoe page on the website and get browsing…
Happy shopping!
Love Team PB xx