Are Platform Wedding Shoes Comfortable?
Platform shoes have long been a favourite choice for brides, and with very good reason. Not only do they look super elegant, platform wedding shoes are also really comfortable, whether or not you're used to wearing heels. But why, we hear you ask? Read on…
Hidden height
Platform wedding shoes have extra depth built into the front part of the shoe, underneath the ball of the foot. This platform serves as your secret weapon. Whilst it's the height of the heel itself which gives you the added lift, this only raises your foot up at the back of the foot. What the platform does is lift the front part of your foot up, decreasing the difference between the front and back of your foot and hence the curve of your foot . It's this curve which shortens your hamstrings and can make your feet or legs start to ache after a long day in heels.
So with a platform you get all of the height but without any of the strain which you might get wearing a high heel. Hence why platform wedding shoes are particularly good for weddings, when you're likely to be in your shoes from morning until the early hours!
Strap yourself in
For the most secure feeling platform, look for a style with adjustable straps. This will give you even more comfort as you won't feel like your feet are slipping at the back, or that you're going to lose a shoe (you're not Cinderella!). These can come in the form of a simple chic ankle strap, elegant crossover straps or even a vintage inspired t-bar.
Walking on air
Lastly look out for natural leather and cushioned socks. Being a natural material, leather will allow your foot to breathe throughout the day, preventing them from sweating and giving you that slippy feeling! Likewise soft cushioning will give you even more comfort under foot, so you'll be just as comfy on the dancefloor in the evening as you were walking down the aisle!
Check out our three top platform wedding shoes…
1. KENDALL
Kendal is, without doubt a modern classic. Simple in design but with a real stand out appeal, the tapered crossover straps are both stylish and supportive. With our signature high back and cushioned sock, these fashion forward yet timeless platforms will see you comfortably from day to night.
Also available in taupe, navy and fuschia satin.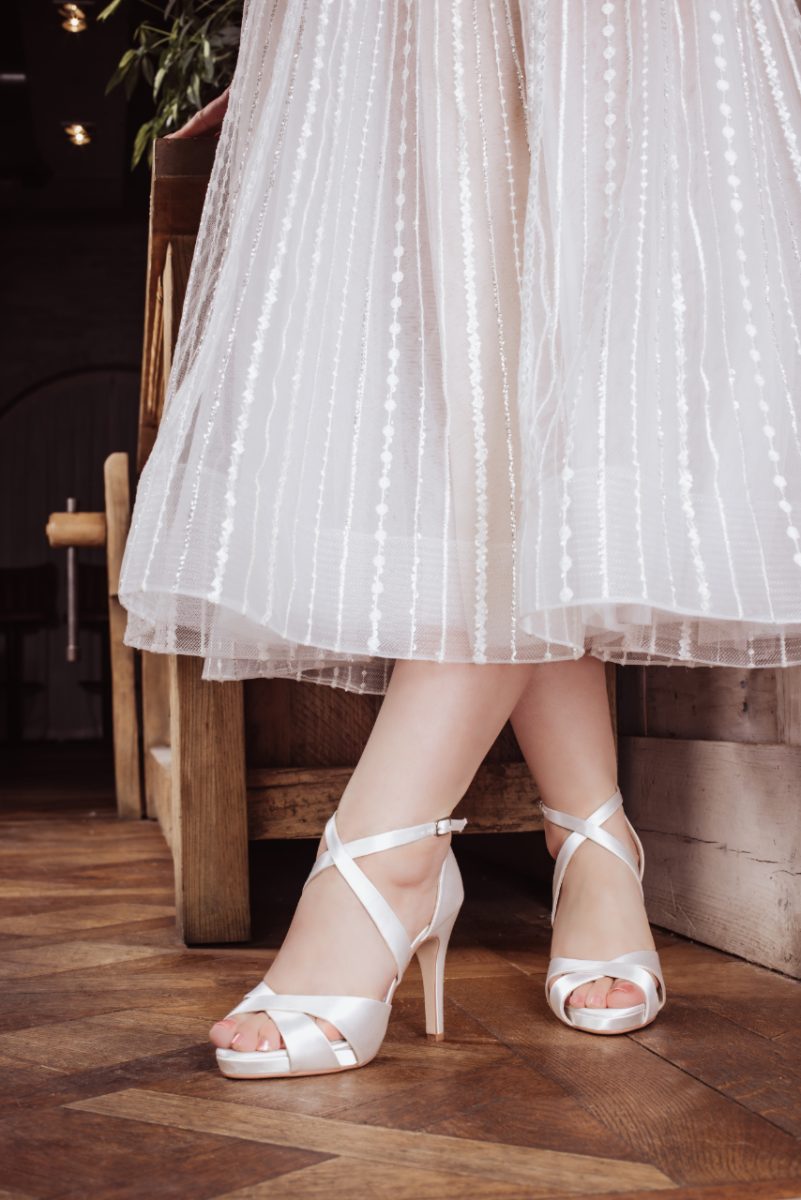 2. CHARLOTTE
A truly stunning shoe, our Charlotte platform will definitely make a style statement on the big day. The crossover straps are not only super flattering, they also give you added support for all day wear. The rouched satin at the front of the shoe is finished to perfection with a sparkling pearl and diamante brooch.
Complete the look with the matching Bridget bag.
3. TIFFANY
One for the purists, it is the sheer simplicity of our Tiffany platform sandals which make them stand out from the crowd. With a single wide strap across the toe and modern ankle strap, they're the perfect versatile wedding shoe to compliment any bridal gown. Made from dyeable satin, you can wear them in their original ivory or dye them to match any colour you fancy!
---
Click here to shop the full wedding shoe collection.