Fabulously Floral Wedding Dresses For Summer
With the Summer season in full swing, now is the perfect time of year for a wedding and to choose a fabulously floral bridal gown. Florals are a huge trend in the bridal market at the moment, one which has been around for quite a while now and is both romantic and feminine. Some designers are going fabulously bold and colourful with their style, with others choosing to go more delicate and whimsical with pretty laces and subtle motifs.
Our designer Kay Heeley, a true lover of lace and 3D florals, created our dress collection with full on blooms at the fore front of her mind. In today's blog Kay selects some of her favourite looks and focuses on all the details of the floral fabrics she used to create a romantic collection that truly stands out.
Willow
Creating a floral design on a gown starts out like a blank canvas, whether you choose a lace fabric or a lace motif. In Kay's case she often uses both within one dress, layering the fabrics like a painter layers paint on a canvas, building a dress that has both depth and detail.
One dress which showcases this perfectly is 'Willow' which is available in either all ivory or ivory and nude. This design features the main body in a delicate floral Chantilly lace fabric, which is softened even more with a layer of tulle followed by the motif application on top. Layering the fabrics means you can create pretty much any design on your dress, having as much or as little floral detail as you like.
This gown gives off total romance vibes and the scattering of clear sequins make the floral motifs really stand out and glitter in that summer sunshine.
Sienna
Many of our gowns feature the same motifs which run through the collection so that items can be mixed with other looks- it's all about the bespoke, interchangeable options! Another favourite floral design of Kay's is the new 'Sienna' dress with her angel cape sleeves featuring the same lace motif as 'Willow.' Sienna is a super versatile dress which could easily fit into a variety of themes such as a boho, romantic or traditional wedding styles.
An elegant sweetheart neckline, fitted corseted bodice with pretty pleated tulle detail, soft and feminine gathered A-line skirt complete with sassy leg split, Sienna really has everything to be both effortless and graceful.
Sarah
Floral embellished sleeves are a relatively new trend which has been around for the past couple of seasons. They are a clever way to add detail to a boho bridal look as well as for a bride who demands drama. Most of the dresses in the collection feature these clever detachable sleeves, or offer cape options which allow a bride to really experiment with florals. One of Kay's favourite gowns which demonstrates this is 'Sarah', whose stunning floor length sleeves feature beautiful 3D floral embroidery.
Sarah's structured Mikado fabric is a stark contrast to the sheerness of the sleeves which glide beautifully over the body of the dress, and of course they are also detachable so brides have the option of removing them in the evening once the reception gets underway.
Olivia
Another clever example of just how a designer can create an embroidered look onto a plain fabric, is our beautiful, traditional 'Olivia' gown. This panelled fit and flair design in a structured Mikado fabric features a delicate floral lace fabric which has each of the floral patterns individually cut and placed along one side of the bodice. This cleverly flatters and emphasises any figure.
The lace design continues into the detachable matching 'Olivia' cape which cascades down onto the hem adding extra floral drama to the skirt.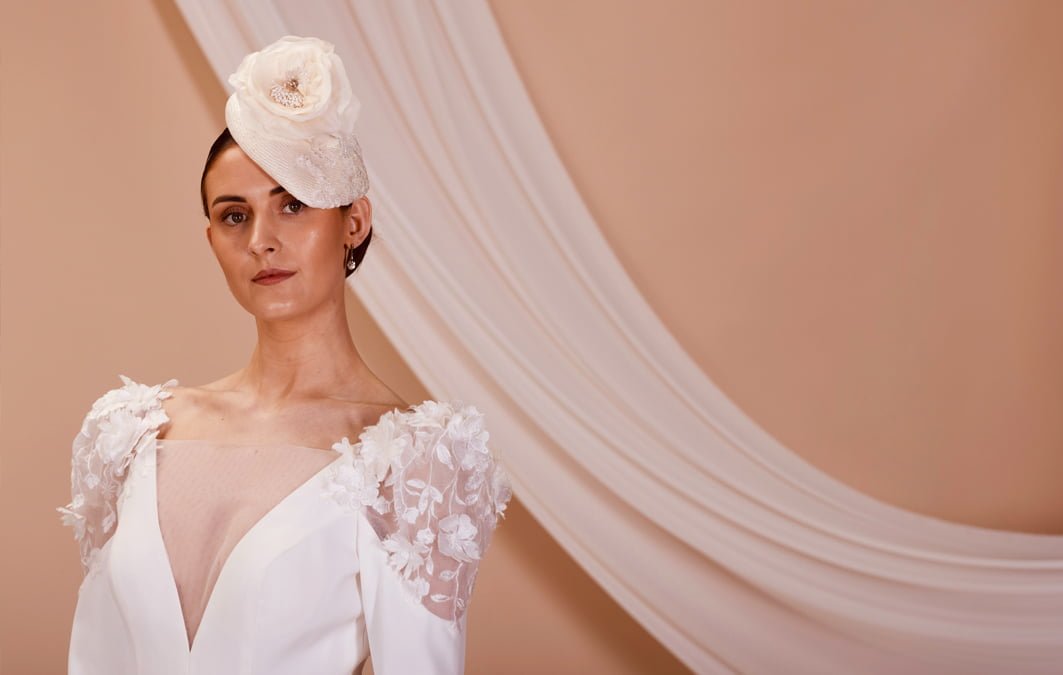 Annabelle
One of Kay's favourite laces in the collection is the 3D floral lace featured on the 'Sarah' dress, but is also incorporated in the Annabelle, Rebecca and Isla dresses. The same fabric can be used in a variety of ways to create different dresses which sit beautifully together as a collection.
Starting with Annabelle, this stunning dress features the floral fabric in its entirety on both the skirt and the sleeves. The detail of the lace offsets perfectly against the plain crepe bodice, which makes the flowers pop so much more.
Rebecca
The next gown featuring this lace is our famous 'Rebecca' dress with matching cape. Again, this gown features the fabric in its entirety on the skirt but also showing individually cut flowers fading up the plain Mikado bodice.
The cape is cleverly cut so the floral detail is heavier on the shoulders with vines cascading down into the sheer volume of tulle of the cape.
As lace is often on a tulle base (a fabric which never frays), it can be cut and an individual design created.
Isla
The gown for our most fashion forward bride is 'Isla' which can be worn completely plain, or with a handmade 3D cluster of the individually cut flowers. As this lace is a substantial cotton embroidered design, it can be moulded into little folded petals and not just sewn flat to the fabric, giving it a completely different look from other dresses in the collection.
---
You may have found your dream floral wedding gown but the fabulous florals don't have to stop there! Now it's time to accessorize with a pretty floral posy or huge cascading bouquet, or maybe one of our beautiful floral veils which would finish the look perfectly.
We also have some beautiful new floral hair accessories, vines and combs that would compliment the whole fabulous floral vibe perfectly. Just remember to keep the balance- opt for more delicate designs with your accessories if you do have that show stopping gown!
So, there we have it, have fun with florals with our extensive dress, accessories and shoe collections- we're sure you'll find something perfect!
Click here to shop the full veil collection, and here for beautiful bridal accessories.