Our Top Five Favourite Bridal Court Shoes
A classic ivory court shoe has been the wedding footwear of choice for generations, and whilst there are now a large range of alternatives to choose from, there's a reason this timeless style never goes out of fashion. So what exactly is a court shoe?
Typically a court shoe (or pump, if you're reading this across the pond) is defined as being a heeled shoe without a fastening. So no ankle strap, t-bar or complicated fastening- this is a style you can simply step into. Traditionally court shoes tend to be fairly understated in design (and some of the most elegant styles are the most simple!), but you can of course get decorated courts too, whether that's a vintage style brooch trim or embellished with all over Swarovski crystal!
We have a beautiful range of wedding court shoes in The Perfect Bridal Company collection. From high to mid heel, plain to something with a little bit of decoration, there's a court shoe to suit every bride. Here are our top five…
RACHEL
Beautifully simple but absolutely stunning on the foot, our Rachel court is a timeless classic. With an elegantly pointed toe and modern straight heel, she is the epitome of style. Made from dyeable ivory satin, the Rachel court can be worn as she is or dyed to any colour you like either for, or after the big day.
With a cushioned leather insole and perfect mid heel height, this style is as wearable as it is stylish.
PIPPA
For those looking for a classic court shoe with a little added detail, Pippa is the perfect choice. A two part shoe with cutaway sides, this modern take on a court has a super elegant cut which is really flattering on the foot. The beautifully elegant pointed toe is completed with a circular diamanté and pearl brooch detail.
Made from dyeable ivory satin, Pippa can be worn as is or dyed to match your wedding colours. Complete the look with matching Bridget clutch.
MEGHAN
With a slightly higher heel in a modern straight style, Meghan is the court shoe to really vamp up a classic look. The toe is just a little more pointed, the heel a little bit higher…make a statement in the most stylish, understated way! We love the elegantly curved cut of the topline which looks super stylish both on and off the foot.
Crafted from dyeable ivory satin, you can wear the Meghan court in classic ivory or dye to any colour either before or after the wedding, to wear again and again…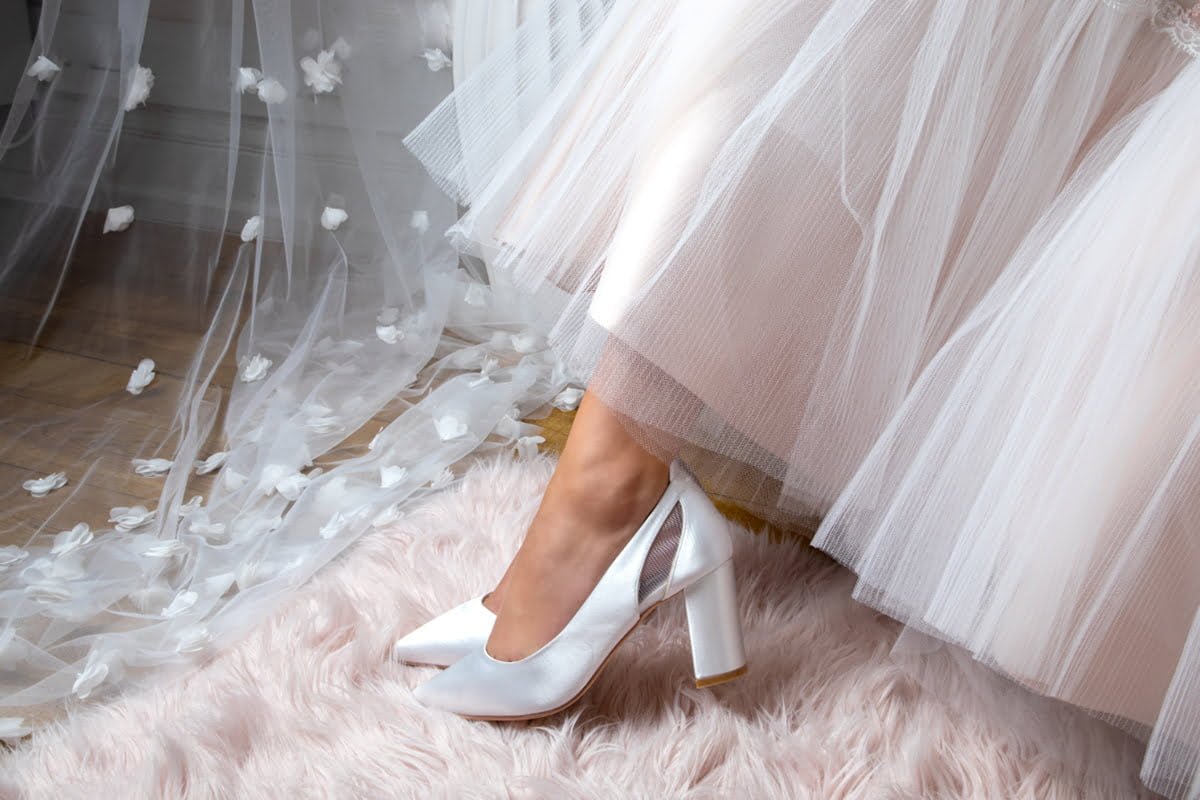 LAYLA
Fancy a court shoe for your wedding but not a fan of a traditional slim heel? Look no further than our Layla block heel court in dyeable ivory satin. We love a block heel for giving you that little bit more support when you walk- particularly great if you're not used to a heel or will be spending a lot of time on outside surfaces such as grass or gravel. Beautifully simple, Layla has an elegant mesh insert at the back of the heel which adds detail to the shoe while remaining timeless.
Wear in classic ivory or dye to any colour you fancy, meaning you'll definitely wear them again after the big day!
MELANIE
A truly timeless ivory wedding shoe, the Melanie court is perfect for those looking for a wearable low heel. With a softly rounded almond toe, this classic style sits on a classic two inch (48mm) heel, with a beautifully understated cut. Made in dyeable ivory satin you can wear them in classic ivory or dye to match your wedding theme.
With a cushioned leather insole and lining, Melanie is the ultimate in comfort and style. Also available in wide fit.
---
Click here to shop the full wedding shoe collection.