The Top 2024 Bridal Trends
A highlight in the bridal industry's calendar, Bridal Week Harrogate is where all the top brands choose to launch their new collections and showcase the latest trends. We were once again delighted to provide all the shoes for the catwalk, which is undeniably one of the most closely watched features of the show. Set in the iconic Royal Hall, the stylishly choreographed runway show would be at home in Paris, New York and Milan, and in the bridal industry is just as highly regarded!
Hot on the heels of this famous catwalk the industry's leading trade magazine, Bridal Buyer recently published their Bridal Trend report for 2024- and if anyone knows what they're talking about, trust us, it's them! In today's blog we bring you highlights from that report, and translate our favourite 2024 bridal trends with our top picks from The Perfect Bridal Company's collection.
SHEER ELEGANCE
First up in Bridal Buyer's trend forecast was sheer dresses. They reported designers "…reimagined traditional bridal gowns, infusing them with a dose of sensuality and sophistication…" This trend plays with beautiful lace, tulle and chiffon amongst other ethereal, see through materials to create texture and elegance.
The below gowns from Jeune Bridal, Diane Legrand and Sasha Loochi were paired perfectly with shoes from The Perfect Bridal Company collection.
There are a number of ways you can translate the sheer trend, whether it's with a predominantly sheer dress or one which incorporates sheer panels in a more subtle way, such as our stunning Roberta dress (pictured below). Another effective- and more traditional- way to embrace the sheer trend is with a super fine, non-embellished veil to create a soft, sheer layer to your look. This ethereal trend also works beautifully for shoes and we're introducing a number of styles which use see through fabrics such as our new Milan block heel in ivory floral lace. Last but not least why not try a pair of elegant sheer bridal gloves, for something a little different?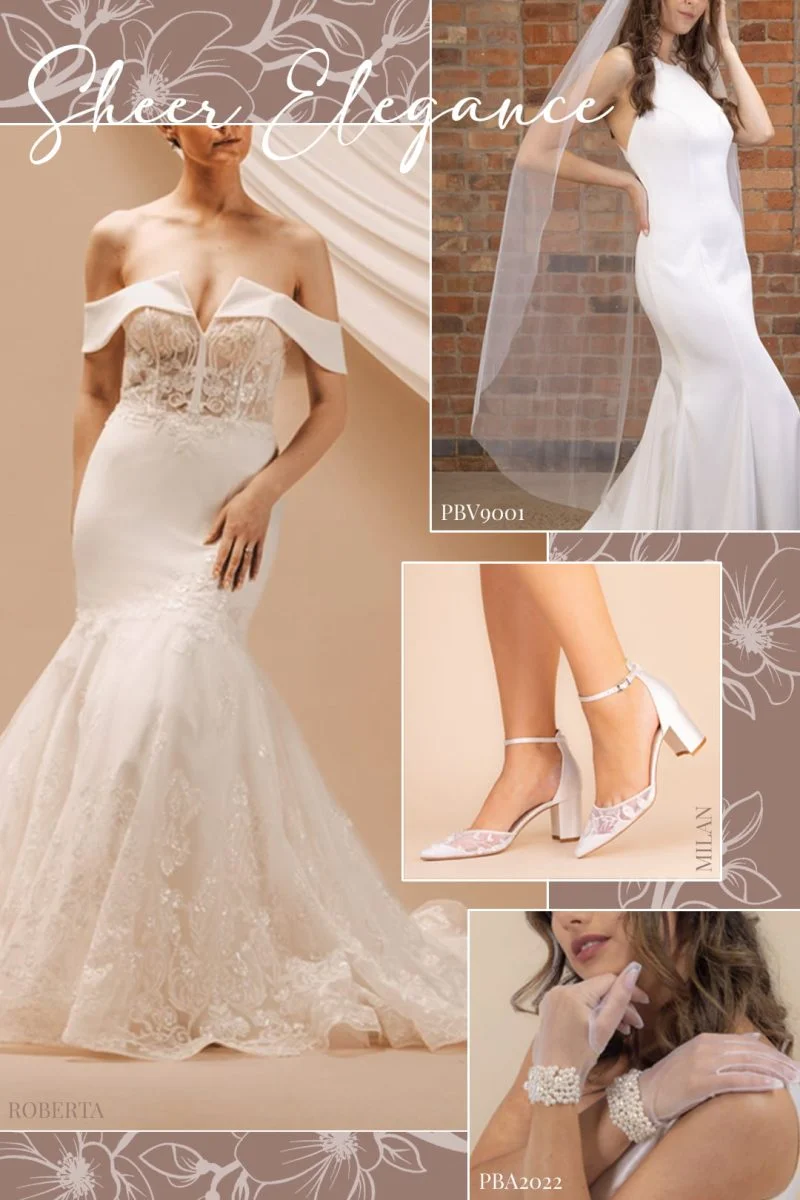 DETACHABLE DETAILS
Another trend we saw on the Bridal Week Harrogate catwalk and fell in love with (even more than we are already), was detachable details which you can use to customise your look. From detachable trains and capes, to removable sleeves, designers used these removeable elements to create multiple looks in one.
These three stunning looks from the catwalk all incorporated detachable elements such as Lore's tailored cape and Evie Young's flowing satin version.
Now this is one trend we can totally get on board with, as it seems to have almost been designed for The Perfect Bridal Company collection! We've always been huge fans of being able to mix and match pieces to customise your look and have a wide range of bridal accessories to help you do just that. Whether it's one of our dresses with it's own detachable train, such as Erin (pictured below), an embellished bridal cape or separate sleeves, we've got just what you need to create your perfect look. This season we're also increasing our range of shoe add ons with our unique Shoe Lab- from bows (pictured below with the new Georgia block heel) to ankle straps in every design!
PRETTY PASTELS
As a long time bridal footwear company, we've always loved the idea of introducing colour to your bridal look with your shoes and know that pastel colours work really well for this. On the catwalks this year however things are going one step further and bringing pretty pastels to the bridal gowns themselves! As Bridal Buyer so accurately put it, " These pastel coloured gowns… offer brides a chance to embrace a more soft, romantic and whimsical look".
Here are three catwalk looks which embrace this trend beautifully, some also giving a nod to the ongoing floral trend at the same time…
Not quite ready to embrace the pastel trend with a full on coloured wedding dress? We hear you- some trends look amazing on the catwalk but you may want to interpret them in a slightly more subtle way for your own wedding. That's where accessories really come into their own- you can use them to add a more fashion forward bit of interest whilst keeping your overall look more classic. For the pretty 2024 pastels trend why not try one of our brand new coloured veils in mint green, pale blue or blush pink, a softly coloured hair accessory or add a pop of colour with your wedding shoes?
FEATHERS AND FRILLS
The fourth bridal trend we are loving for 2024 definitely brings a touch of fun to your wedding look! This season we saw plenty of frills, feathers, fun and frou-frou walking down the catwalk at Bridal Week Harrogate! Sometimes used as a subtle detail, other times adorning the entire look, designers added some opulence with the use of " lavish texture and playfulness".
How cute is this Kelsey Rose jumpsuit with feather trimmed bodice? We also love how Sophia Tolli uses layered ruffles on the below gown, giving the impression of an entirely feathered A-line skirt!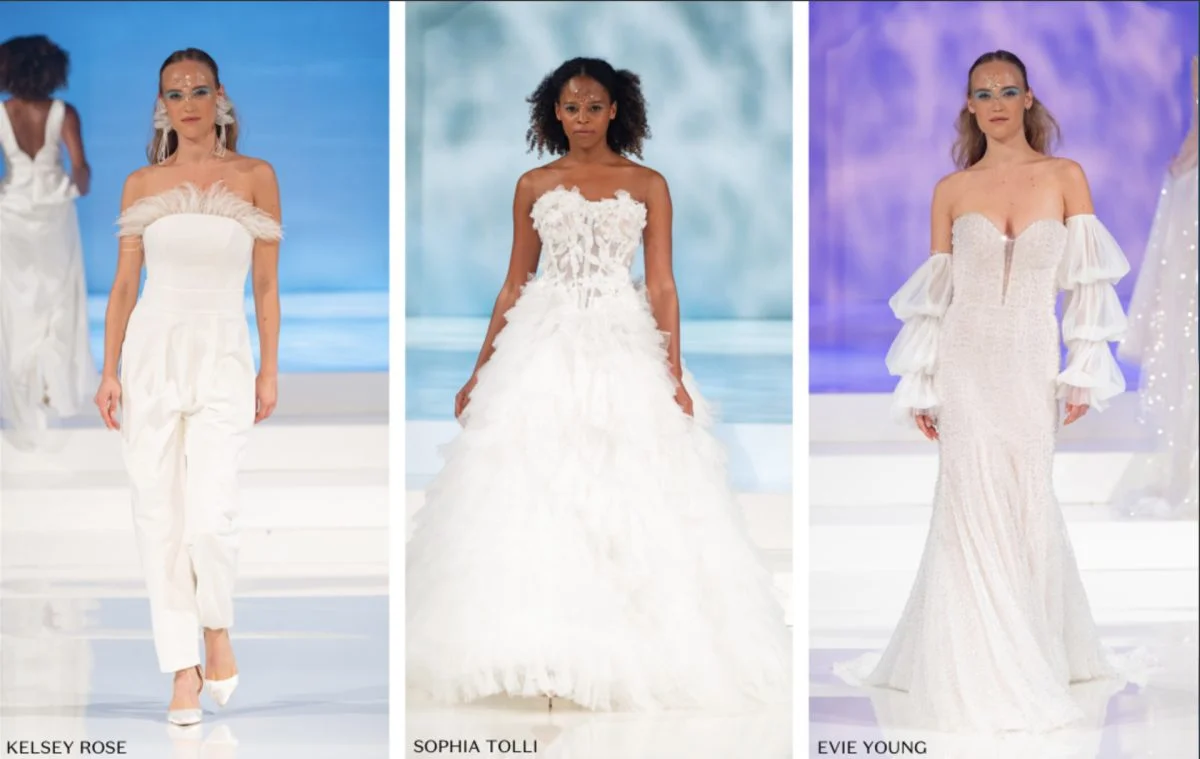 Possibly the most couture bridal fashion trend we saw at Bridal Week Harrogate, feathers and frills can be difficult to style for an actual wedding. That's not to say you can't or shouldn't however- why not introduce a touch of fun with our floorlength, feather embellished veil? Or embrace the frills with cascading layers of tulle on our stunning, Spanish inspired Marianna gown?
CLEAN SIMPLICITY
Whilst feathers and frills are going to bring some fun to 2024 wedding looks, the final Bridal Trend which we know our brides are going to love, is almost the opposite to this- they do say opposites attract after all! Clean lines and a minimal aesthetic could also be seen at this year's runway show. Providing a stunning contrast to the more heavily embellished trends, this pared back look incorporates timeless silhouettes and understated detailing.
These three gowns demonstrate this trend perfectly- each with a different yet effective sleeve and subtle twists.
Easy to wear and super flattering, this pared down, clean lines look is as timeless as it is on trend. Choose a simple and beautifully fitting gown such as our Sarah dress (pictured below), and wear it with a slim embellished bridal belt and a classic ivory court shoe. Finish the look with a statement yet classic bridal headband in ivory with intricate bead embellishment.
You can read Bridal Buyer's full trend report here and check out the full Perfect Bridal Collection here. The new 2024 styles will be hitting stores later this year, we can't wait!
So which is your favourite new bridal trend for 2024? Let us know…